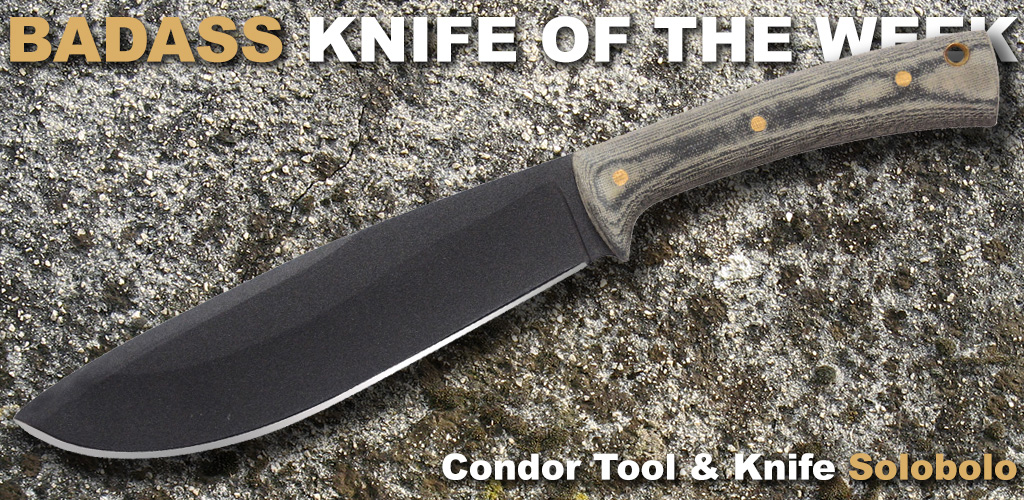 When you need a bushcrafting knife that's both versatile and powerful enough to take on any outdoor task, look no further than the latest Badass Knife of the Week: the Condor Tool & Knife Solobolo.
This large fixed-fixed blade knife is a bushcrafter's dream.
The Solobolo features a long 8-inch blade made from German 1075 carbon steel, which is extremely tough and capable of taking an edge without much effort. To increase the steel's resistance to rust, the blade has black traction powder coating. The lightly textured coating also reduces the reflective properties of the steel, making it great for tactical purposes.
A bolo is a type of machete that hails from the Philippines. Primarily used for farming and agriculture, the bolo machete typically has a long blade, but Condor TK packages the strength and versatility of the bolo machete into the Solobolo.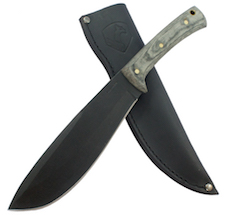 Along with the 5mm blade thickness, the knife's full tang gives the bushcrafting knife extra strength. Because comfort is just as important as strength, durable Micarta handle scales feel great in the hands. A lanyard hole lets the user opt for extra security when wielding the knife.
Rounding out the Solobolo is a heavy-duty, handcrafted leather sheath with a swiveling belt loop that makes carrying the knife anything but cumbersome.
For more information on this Badass Knife of the Week, check out the product page for the Condor Tool & Knife Solobolo.