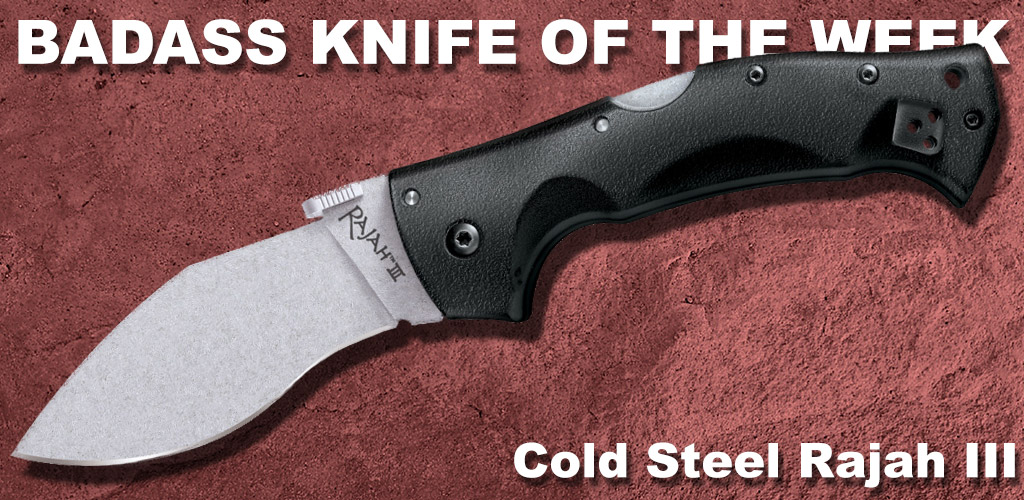 With its curved blade, deep belly, and thick point, the kukri machete is one of the most versatile tools around. So what's the only way to make the kukri even more useful? Make it small enough to fit in your pocket.
Our latest Badass Knife of the Week from Cold Steel takes the unique characteristics of the Nepalese kukri and scales them down into a convenient folding knife.
The Cold Steel Rajah III features a 3.5-inch blade in the shape of a Nepalese kukri. The curve in the blade gives it exceptional chopping power and the point makes it optimal for finer tasks.
Like the kukri, the blade on the Rajah III is strong. Unlike the kukri, this knife is a folder. Using Andrew Demko's highly regarded Tri-Ad lock, this Demko-designed folder stays firmly in place with a stop pin that redistributes the pressure throughout the knife to be absorbed. This makes for one reliable knife.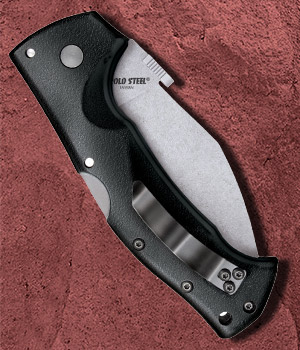 The Griv-Ex handle boasts an ergonomic design that's been carefully sculpted to offer an array of grip options.
Along with a distinct design, the Rajah III comes with a few features that make the knife even better, including a thumb plate for ambidextrous opening, a reversible pocket clip, steel liners, and more.
The Rajah III gives you the power of a kukri machete in a folder that's small enough to fit in your pocket. What's more badass than that?
For more information on this Badass Knife of the Week, check out the product page for the Cold Steel Rajah III.