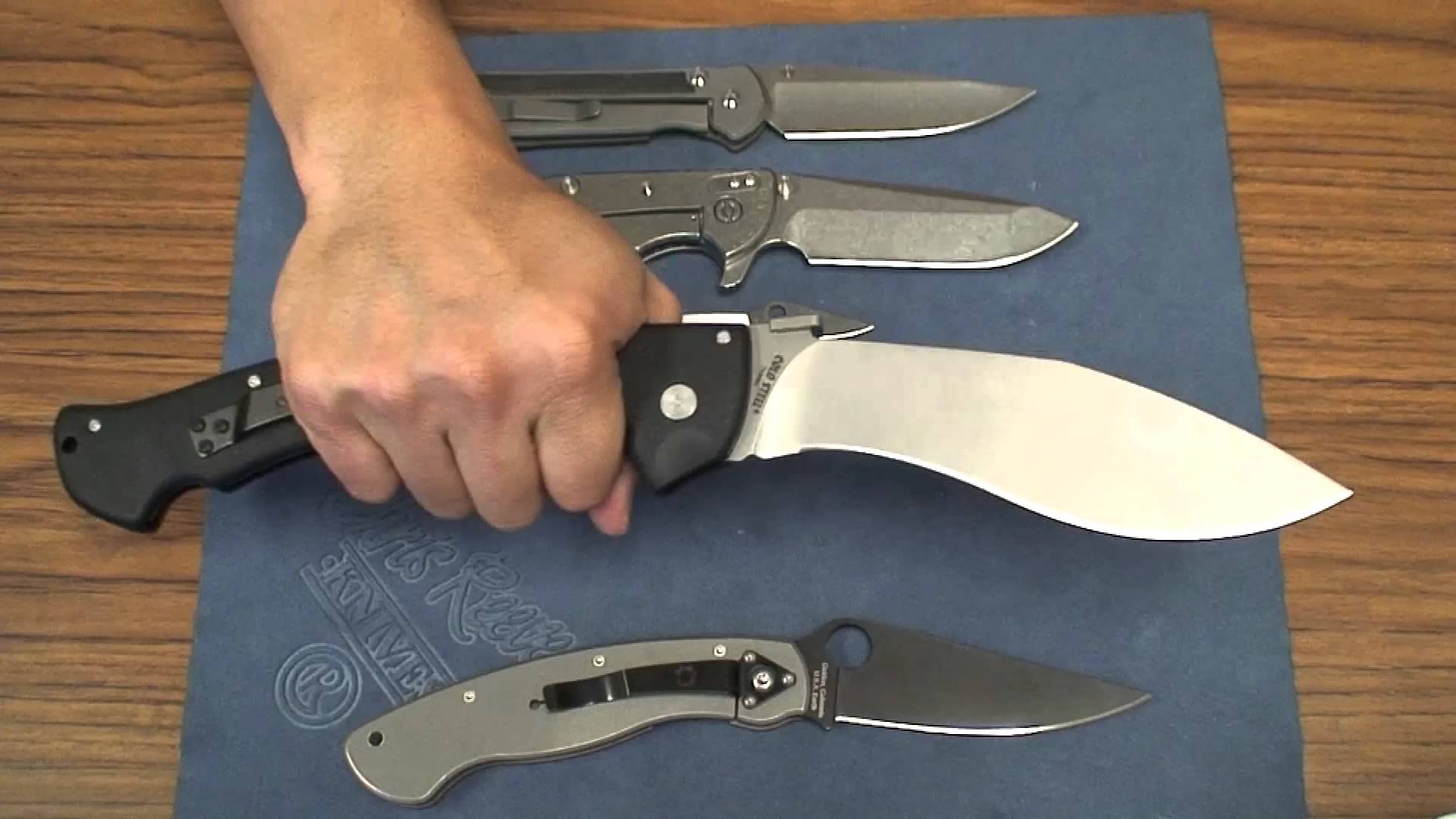 Cold Steel is known for going to the extreme. The famous knife brand often gets killed by critics, calling Cold Steel knives nothing but "mall ninja" junk. But any real knife enthusiast could tell you that Cold Steel makes some strong, well-designed knives for the hard worker, such as the Cold Steel Recon 1 and Cold Steel Voyager.
Despite having some down-to-earth knives for everyday carry, Cold Steel doesn't shy away from the monstrous and preposterous.
So in today's post, we're looking at the five largest folding knives Cold Steel currently makes. Most of these are in fact the largest folding knives on the market as well (except for the No. 13 Opinel with a whopping 8.75-inch blade). These may not always be practical, but they are always awesome. I also added a few clips from YouTube so you can see what these knives look like in the hand.
Cold Steel Ti-Lite 6 (6″ Blade)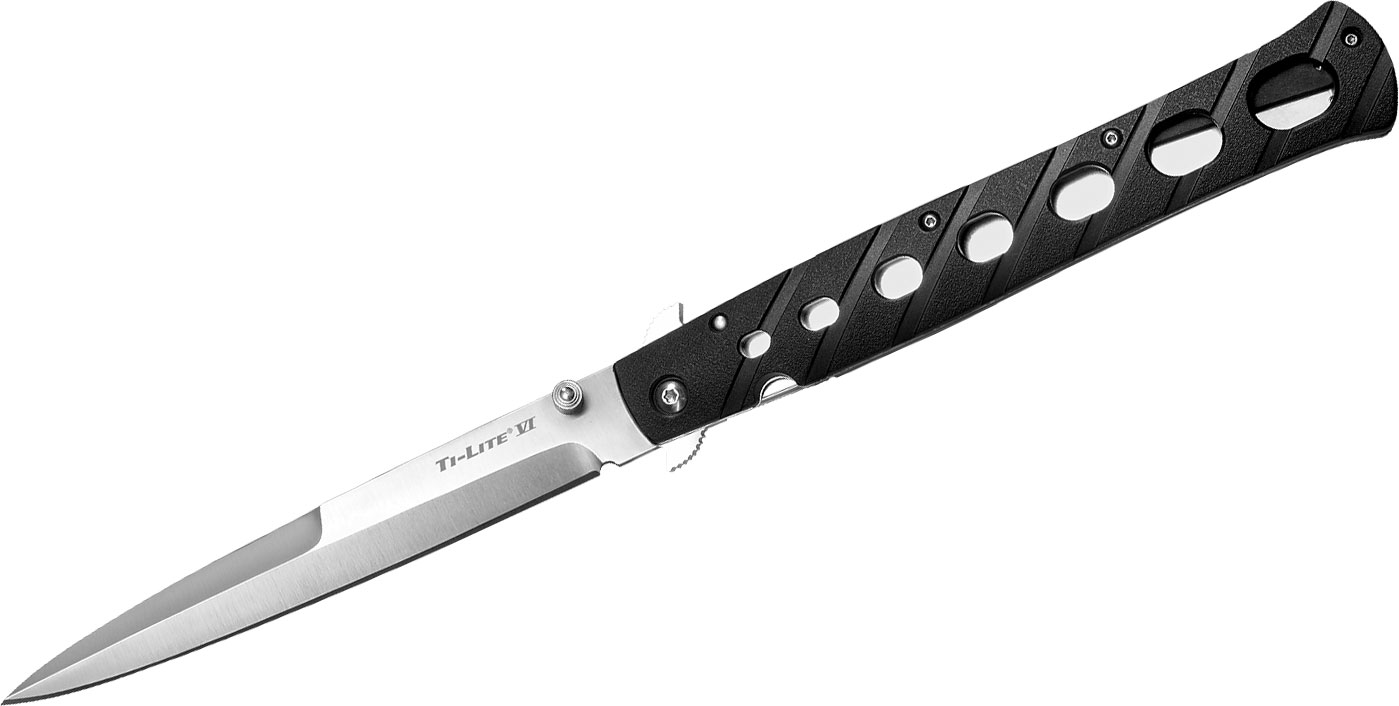 The Cold Steel Ti-Lite is a thin and sleek folder that looks like something out of the 1950s. When engaged, the knife features two bolsters that resemble a good ol' switchblade—except this is a manual folder that engages with a thumb stud. Or if you're carrying the knife in your pocket, the bolster doubles as a protrusion that catches the side of your pocket and engages in one swift movement (a la the Wave).
The knife has an overall length of 13 inches, which gives this an excellent reach. It has Zytel handles. This piercing point and quick-opening mechanism make this tool great for self-defense.
This one is the older version with 440A stainless steel, but you can also pick up the newer version with Carpenters CTS XHP Alloy and Aluminum Handles.

Cold Steel Hold Out I (6″ Blade)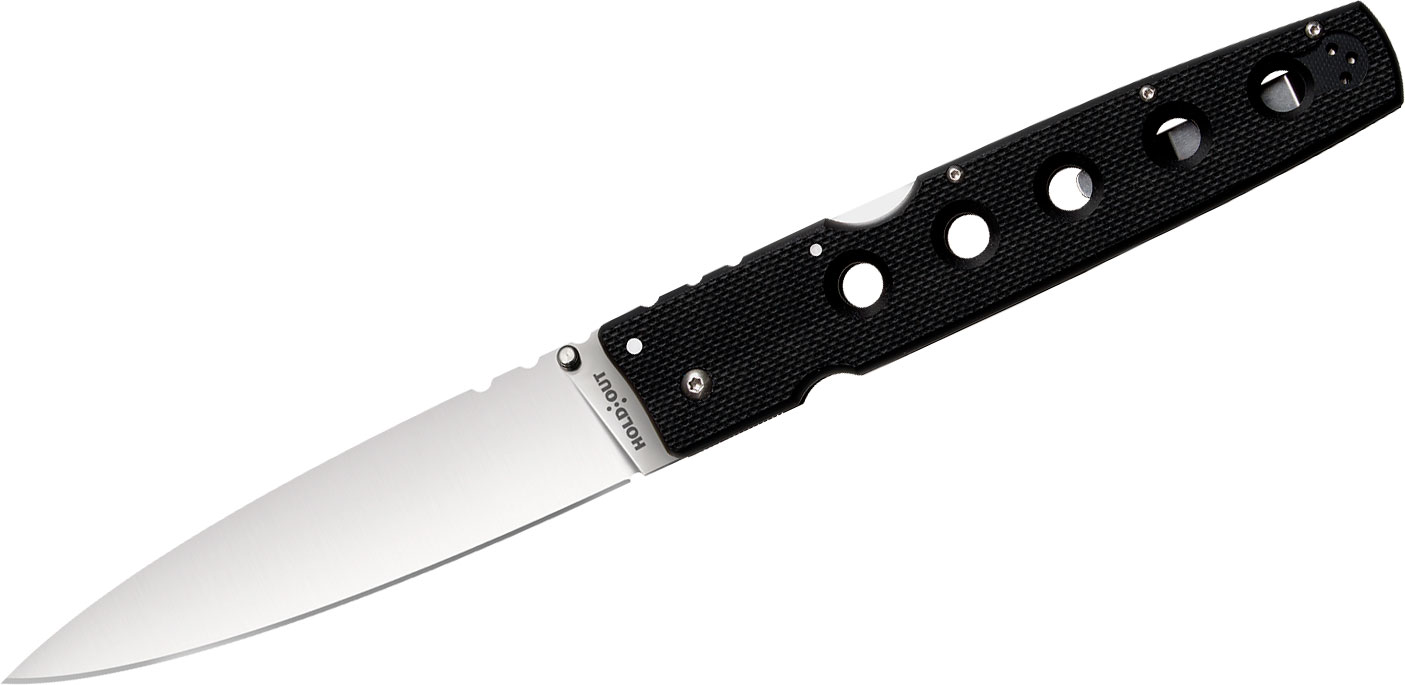 The Hold Out I is another knife that's ideal for self-defense. It was designed with military and law enforcement personnel in mind, creating a minimalist tool with a piercing point. At 6 inches, the blade is made from the updated CTS XHP steel and is no joke.
It uses the reliable Tri-Ad locking mechanism and features a handle that can be held in different positions. The Hold Out comes in smaller sizes, but why would you want that?

Cold Steel Rajah II (6″ Blade)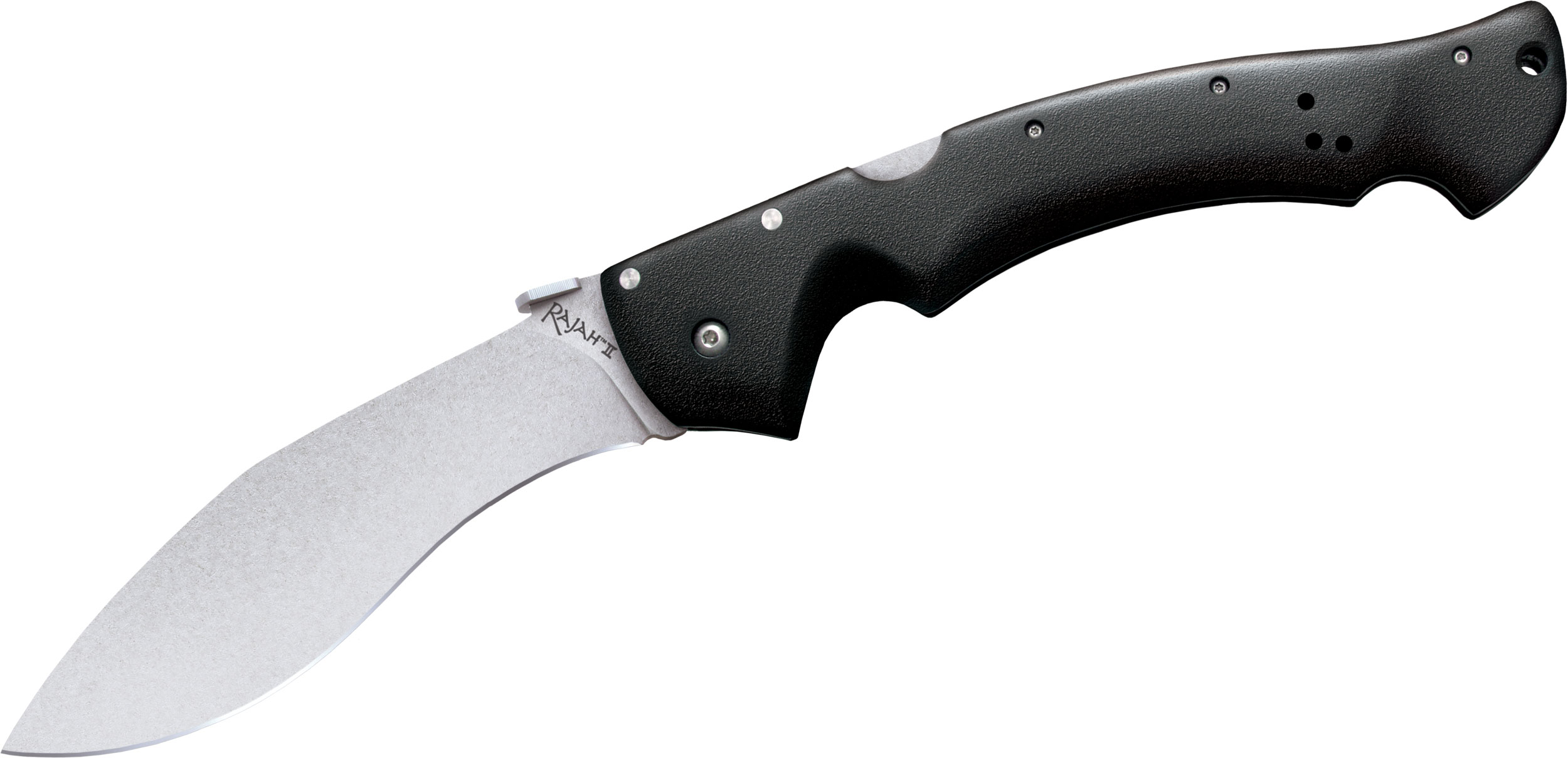 The Cold Steel Rajah is a unique design that can only be described as a folding kukri machete. The Rajah is so versatile and strong that we made the Rajah III the Badass Knife of the Week last year. While the Rajah III has a reasonable 3.5-inch blade, the Rajah II boasts a long 6-inch blade.
Not only is the blade extremely long but the large, curved profile makes it look even bigger than the others on this list. Believe it or not, there are people who carry this knife regularly, despite (or because of) its size.

Cold Steel Counter Point XL (6″ Blade)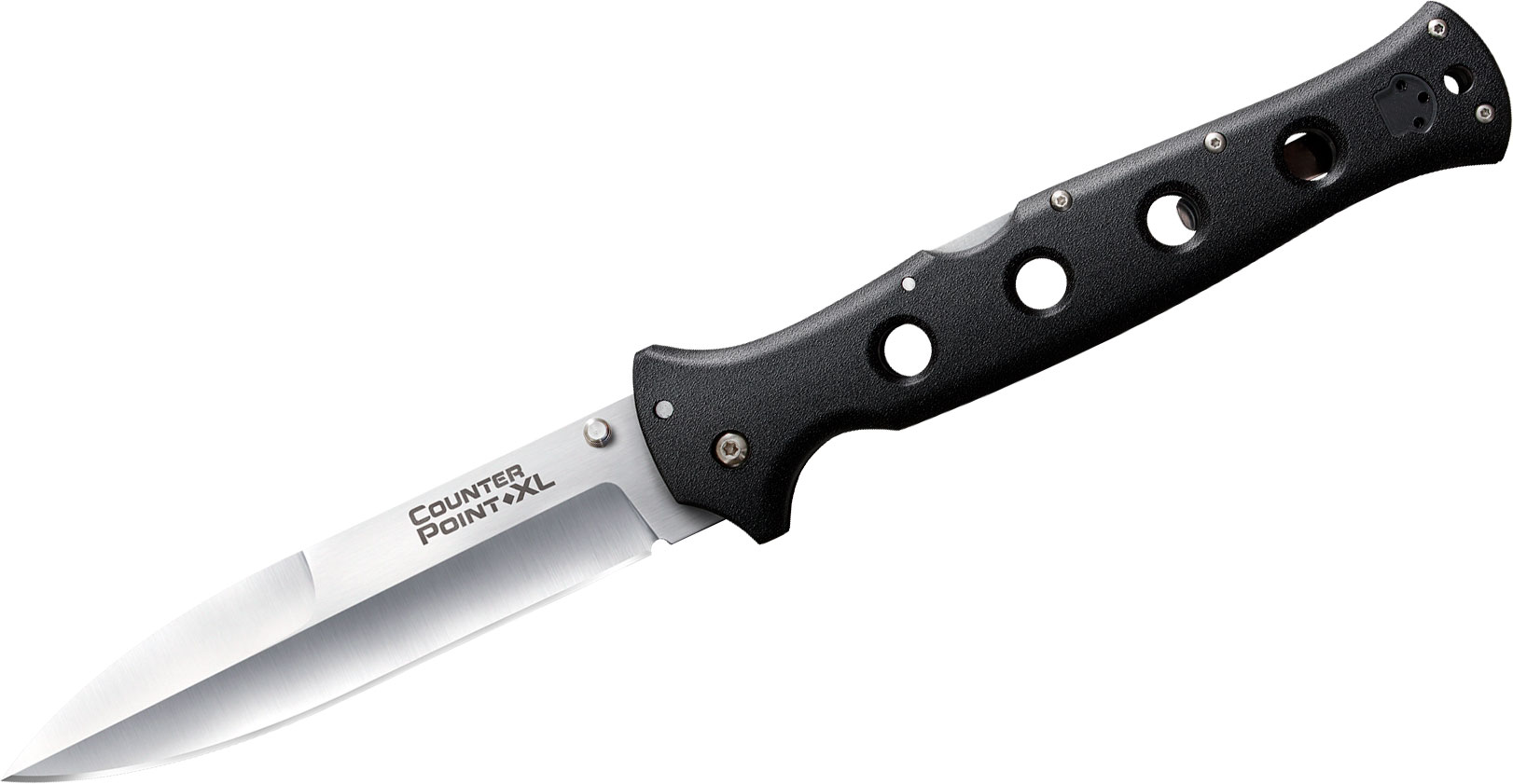 Created after Lynn Thompson spent years of researching the best qualities of boot knives, the Counter Point series is yet another knife with a thin stiletto-inspired appearance. Like the Ti-Lite, the Counter Point has a spear point with an unsharpened swedge to aid in piercing.
The handle is made from Griv-Ex polymer with enough shape to give you a solid grip. It comes in three different sizes, but the one that makes out list has a 6-inch blade, known simply as the Counter Point XL. It has an overall length of 13.125 inches.

Cold Steel XL Espada (7.5″ Blade)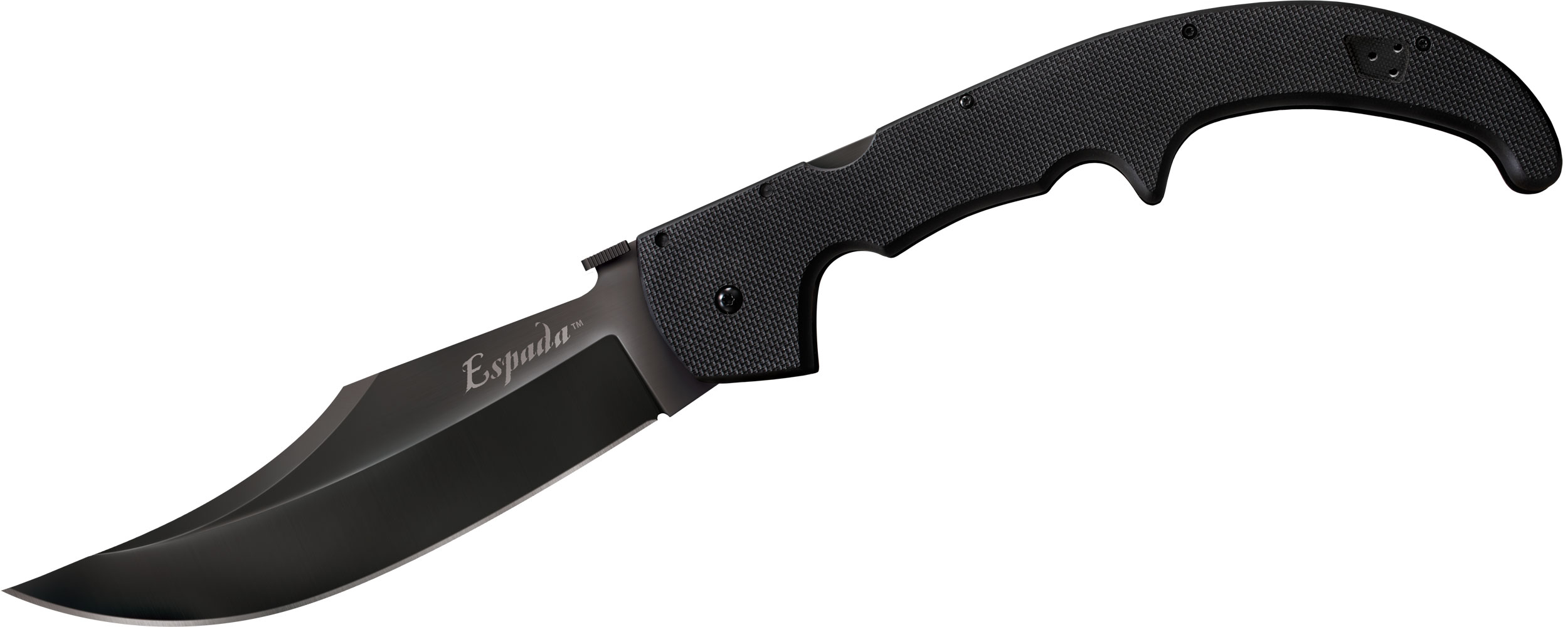 Finally, there's the biggest Cold Steel currently available—the XL Espada.
This beast of a knife comes in many different sizes, but the XL is the largest by far. The Espada is a collaboration between Andrew Demko and Lynn Thompson. At one point, this was the knife Thompson carried around and it's not hard to see why.
The original Espada is quite a looker with a pronounced clip point and polished G-10 handle scales with 7075 aluminum bolsters. The one we're highlighting here is the black G-10 iteration. At 7.5 inches, the blade is downright huge. It may not be the most reasonable length, but it'll hold up to pretty much anything you throw at it.
Here is a quote from the product description:
"In our own notoriously brutal product testing, the XL Espada was not only capable of easily holding 600lb of free hanging weight, but we even used it to support a hanging engine block!"
Need we say more?