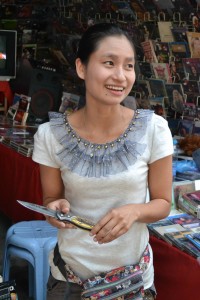 When I arrived in Thailand last month, I only received a 30-day tourist visa. It expired this week and in order to renew it, I had two options: either trek 14 hours to Laos and hit up the Thai embassy for a 60-day visa or take a 3-hour jaunt to the Burma border, walk across for 30 minutes and be granted an automatic 15-day extension upon my return.
I chose the latter.
The border connects the Thai village of Mae Sai with the Burmese town of Myawaddy, which has a lively market that is occasionally jolted by bombs set off by Burmese rebel groups.
It's a good place to buy  DVDS, watches, clothes, electronics and pretty much everything under the sun for a fraction of the price it would cost you in the West. While stumbling through the myriad stalls, I came across a woman selling knives.
She had a little selection of tactical knives, most of which seemed outrageously cheap.  I ended up buying a Dark Ops Stratofighter Stilleto, which retails for $250 for 500 baht ($15).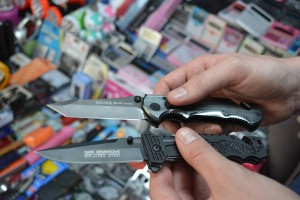 I will admit that there was a moment when I naively considered the possibility that this knife might be legitimate, that maybe somehow the Burmese Army had bought a few thousand Dark Ops knives and poverty-stricken soldiers had unloaded them to street vendors for a fraction of the price.
The knife looked exactly like the legitimate version, which according to the product description, has " a blade made from proprietary CTV2 steel, an exotic and expensive hybrid of Chromium, Cobalt, Tungsten, Vanadium and other metals."
Without having the real version side-by-side, it's challenging to decipher the difference in design, but since it's well-known that the Chinese have become experts in forging expensive tactical knives, I'm pretty confident it's not legitimate.
Regardless, for $15, it's still a pretty sweet-looking knife and has a decent blade.  Below is a stellar video of me knife shopping in the market with The Eagles blaring in the background, if you're interested.
And if you have any experience buying fake tactical knives, we'd like to hear about it.  These knives are often sold on Ebay and other auction sites, so remember that if a knife seems suspiciously cheap, there's a good chance it's a fake.