With knife laws regarding switchblades being relaxed across the country, we've entered a golden age of automatics.
Not too long ago, autos were a niche category from a few specialized brands or in very limited offerings. Not anymore.
Even brands as iconic and beloved as Benchmade have shown just what automatic knives can offer. You'd think narrowing down the 10 best automatic knives from Benchmade would be an easy task, but the diverse offerings and sheer amount of Benchmade autos made things very difficult.
The formula used in calculating the knives on this list was very unscientific: I included comments from customers, reviews from around the web, personal experience, and more.
If you disagree with any or think we missed one, let us know in the comments.
1. Benchmade Fact Auto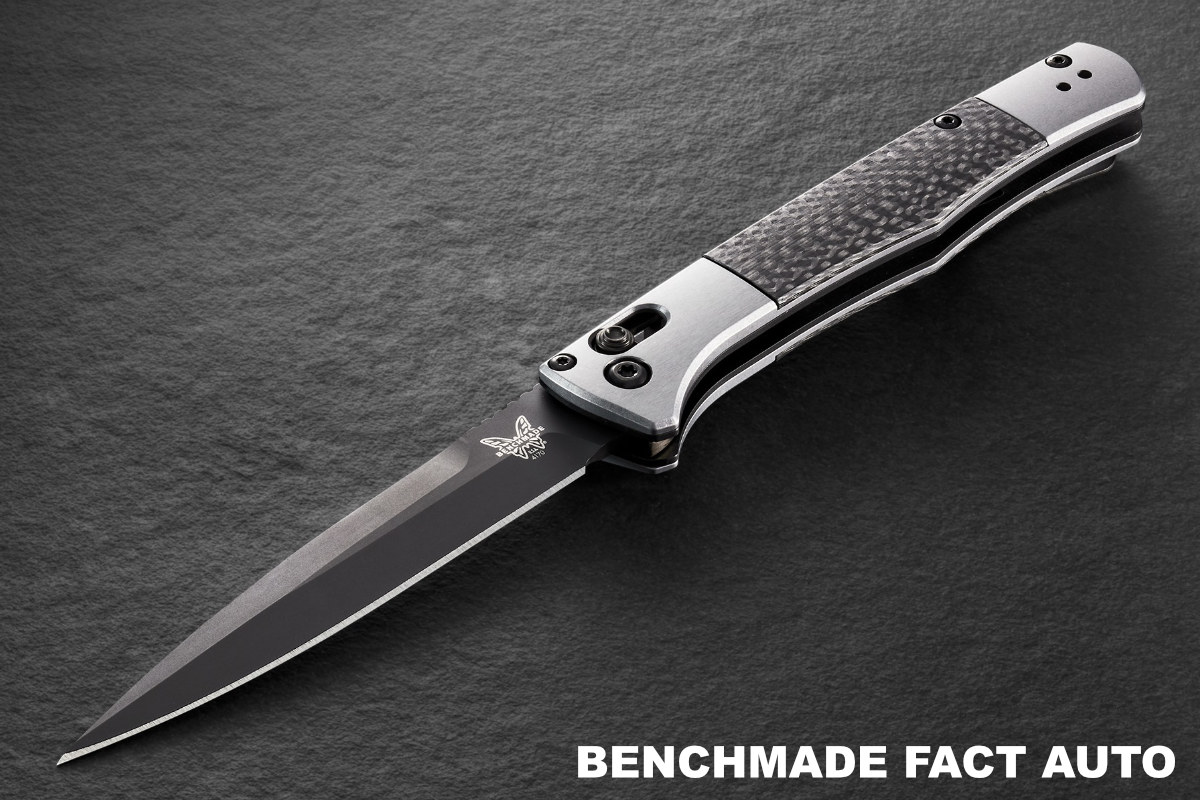 Let's start with a sleeper hit. The vanilla Benchmade Fact was as interesting knife with a slim profile and lightweight design that wasn't particularly spectacular.
However, the moment Benchmade turned it into an auto and gave it some much-needed upgrades, it became one of the most compelling autos Benchmade has ever offered.
This version of the knife has a long 3.95-inch blade made from S90V with black coating. The boring skeletonized handle of the original is replaced with an aluminum handle with carbon fiber inlays. This essentially turns it into a modern-day Italian stiletto. The Auto AXIS lock is intuitive and easy to use with one hand.
It's a true masterpiece.

2. Benchmade Infidel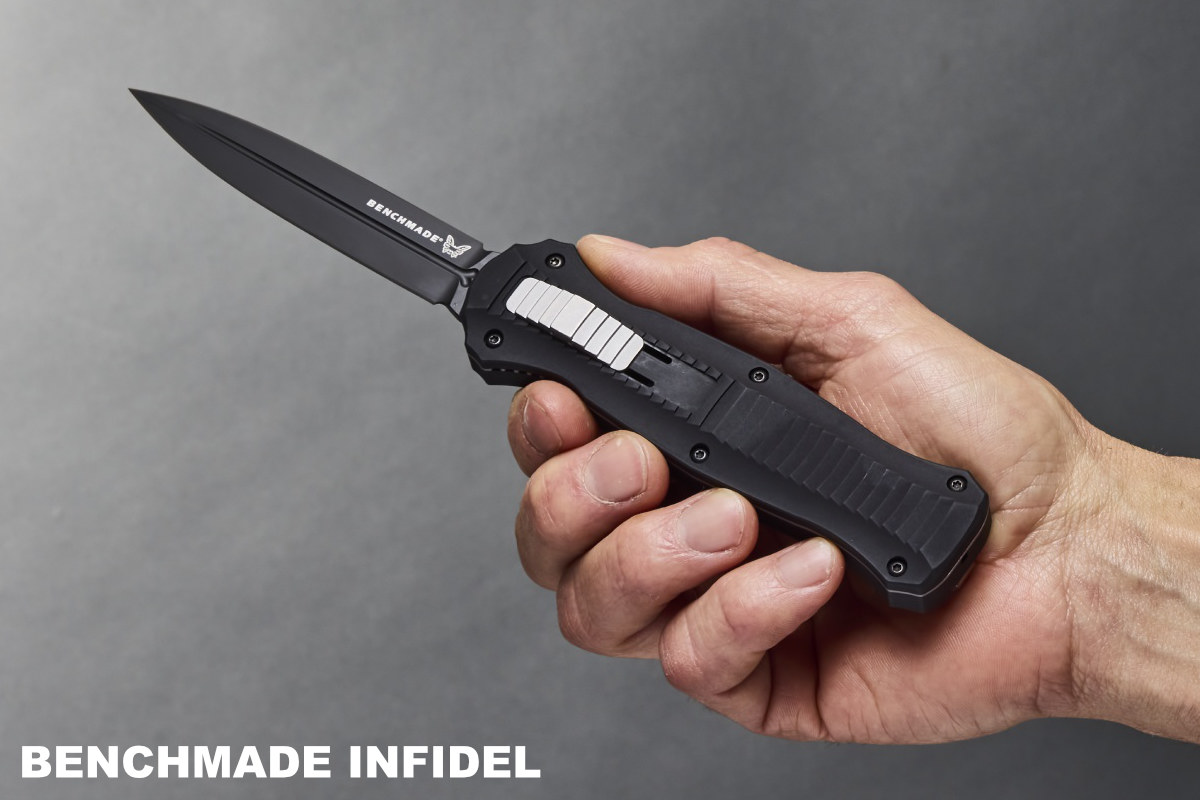 Back when Benchmade introduced the Infidel in 2006, OTF knives were very niche. Still, despite being aimed at military or emergency personnel, the Infidel was received surprisingly well and has since become a mainstay of the brand.
The Infidel has since been remade into a few versions, but the new standard is the 3300BK with a 3.95-inch black blade and black aluminum handle.
The knife helped pave the way for several other OTFs on this list.

3. Benchmade Claymore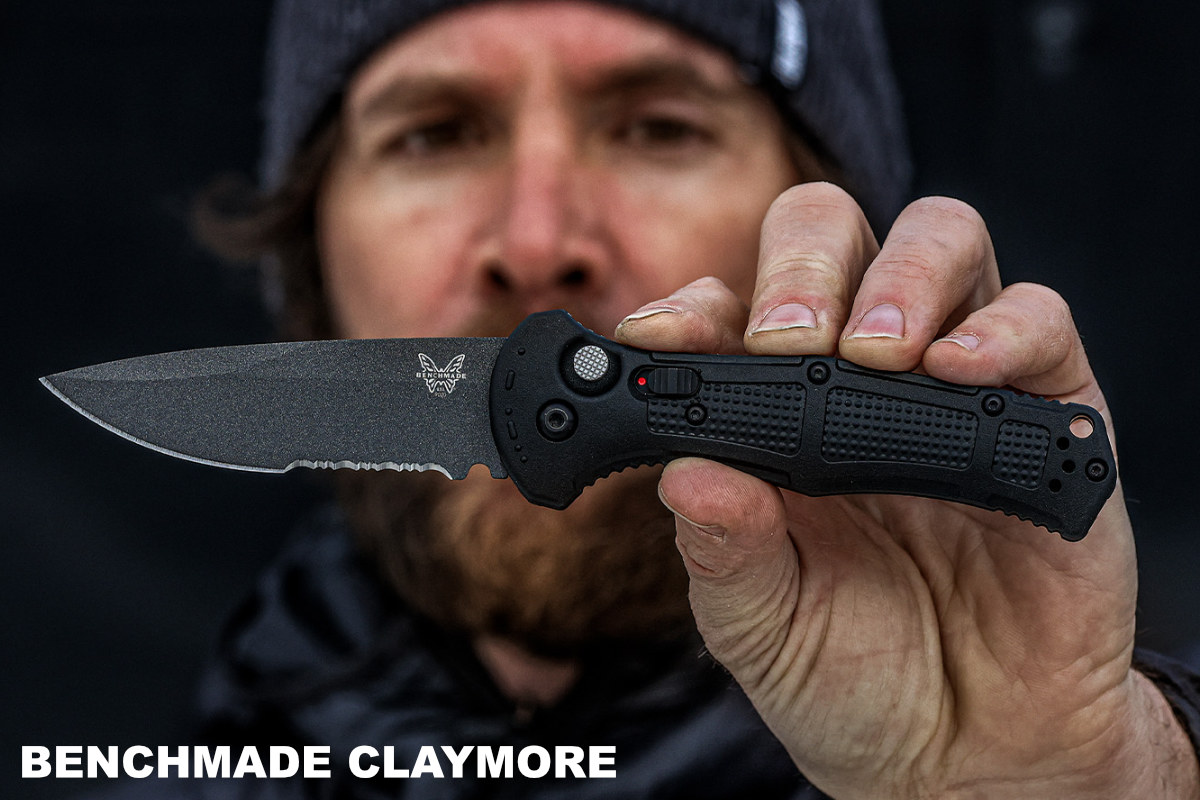 From one of the earlier models to one of the more recent ones, the Benchmade Claymore has established itself as the go-to hard-use auto — competing with the Auto Adamas and Gerber 06.
The Claymore first released with only partial serrations but was released with additional variations not long after. It was named one of our best new knives of 2022 and was among our top-selling knives of 2022.
It has a tough 3.6-inch blade made from D2 steel and a Grivory handle. Both of these materials are well known for their durability. This knife forgoes the AXIS mechanism and opts for a button actuator.

4. Benchmade 9400 Osborne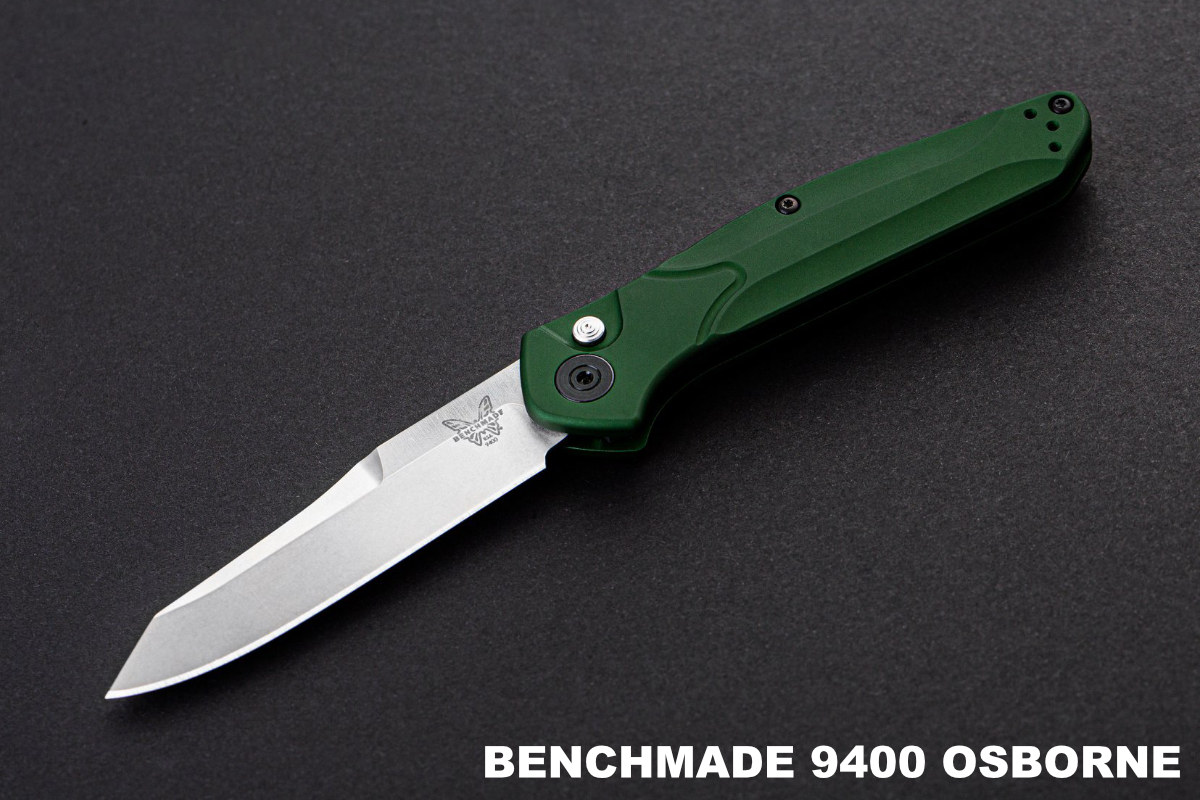 The 940 Osborne is one of the most iconic knives ever made, so when they switched it up and transformed it into an auto, it was an instant hit.
It retains everything that made the original so beloved: the green aluminum scales, the purple backspacer, the reverse tanto blade. The only major change was the removal of the AXIS lock and replacement with a button lock with auto mechanism.
That simple change gave the old design new life.

5. Benchmade Shootout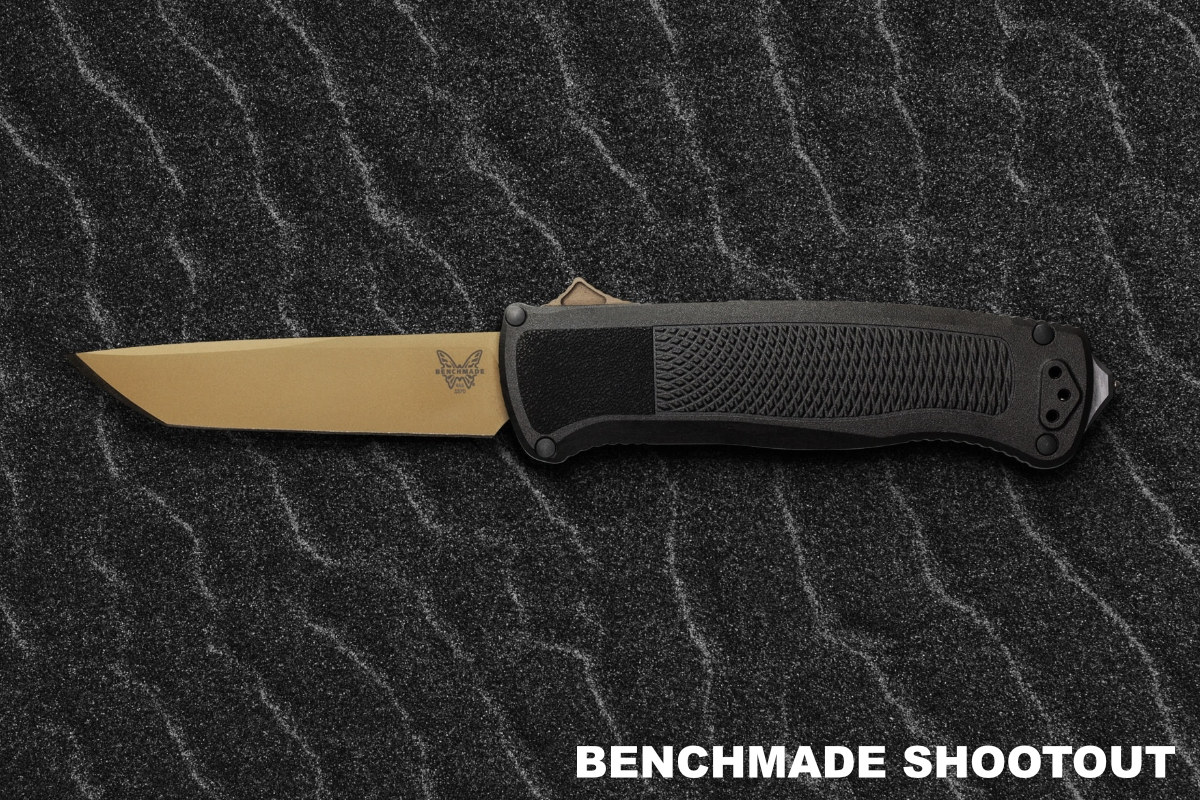 The Shootout is the newest knife on this list.
Whereas most OTF knives are designed for light EDC use or as showpieces, the Shootout is built to last with performance and durability in mind. That means it's an OTF you shouldn't be afraid to use.
It has a 3.51-inch blade made from one of the toughest blade materials available: CruWear. On top of that, the thermoplastic composite handle is reinforced with carbon fiber, making CF-Elite insanely durable.
It's hard to go wrong with this tough OTF.

6. Benchmade Mediator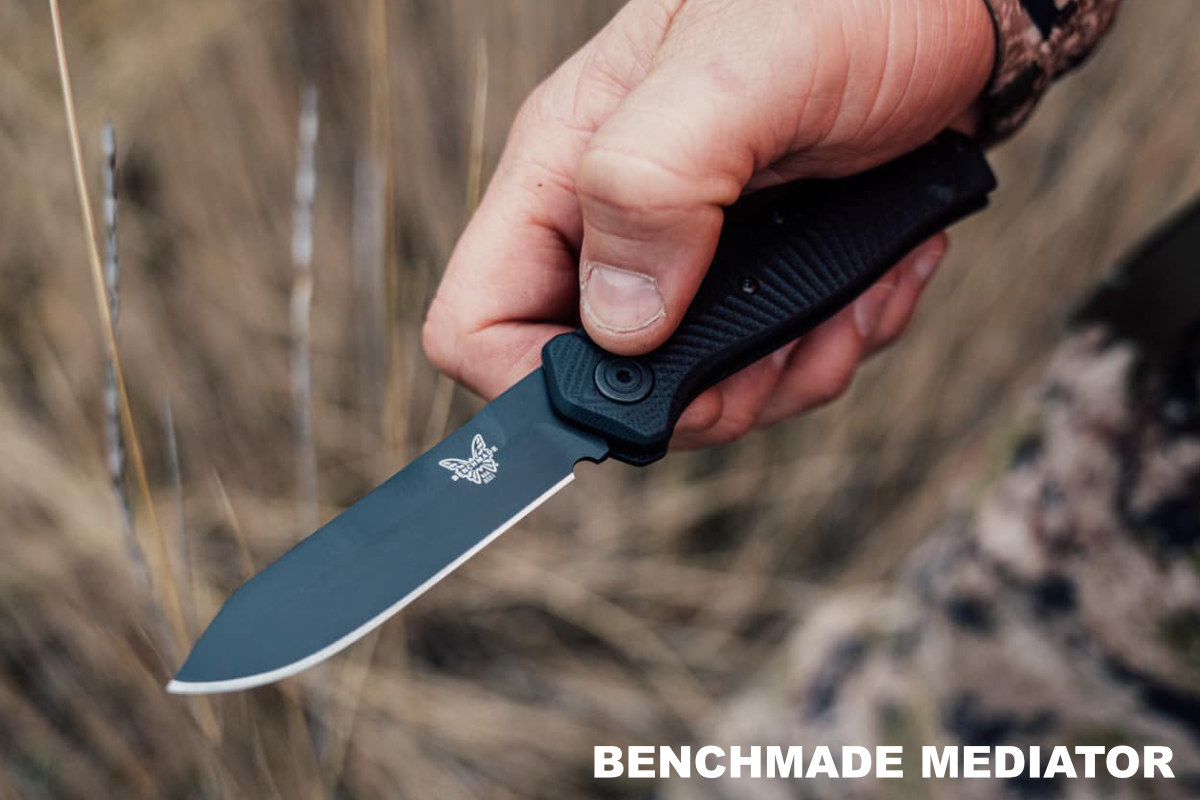 The Mediator is another relatively new knife. This is a unique automatic because it combines all the best aspects of other Benchmade knives: the lightweight nature of the Bugout, the modified tanto blade of the 940 Osborne, and the speed of the Infidel.
The result is a perfect blend of features.
It has a reasonable 3.3-inch blade made from S90V steel with a G-10 handle. Despite having seemingly disparate parts, the Mediator has a very cohesive design.

7. Benchmade CLA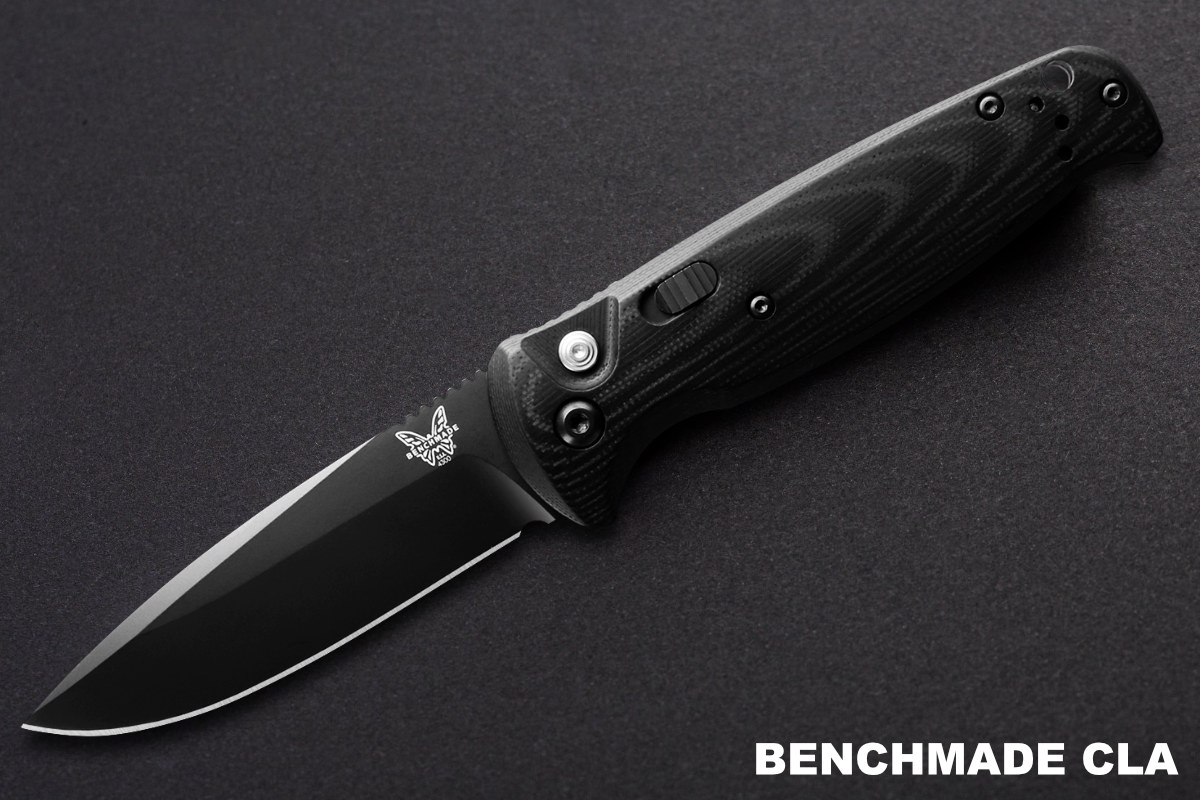 The CLA, which stands for Composite Lite Auto, was Benchmade's first auto to have a nonmetallic handle. It opened up the opportunity to really experiment with handle size and weight.
The CLA is a pretty robust knife that doesn't feel too large to carry. It has a 3.4-inch blade and G-10 handle — all at a weight of just 3.47 ounces.
This is just a good all-around auto that they're still experimenting with to this very day.

8. Benchmade Auto Adamas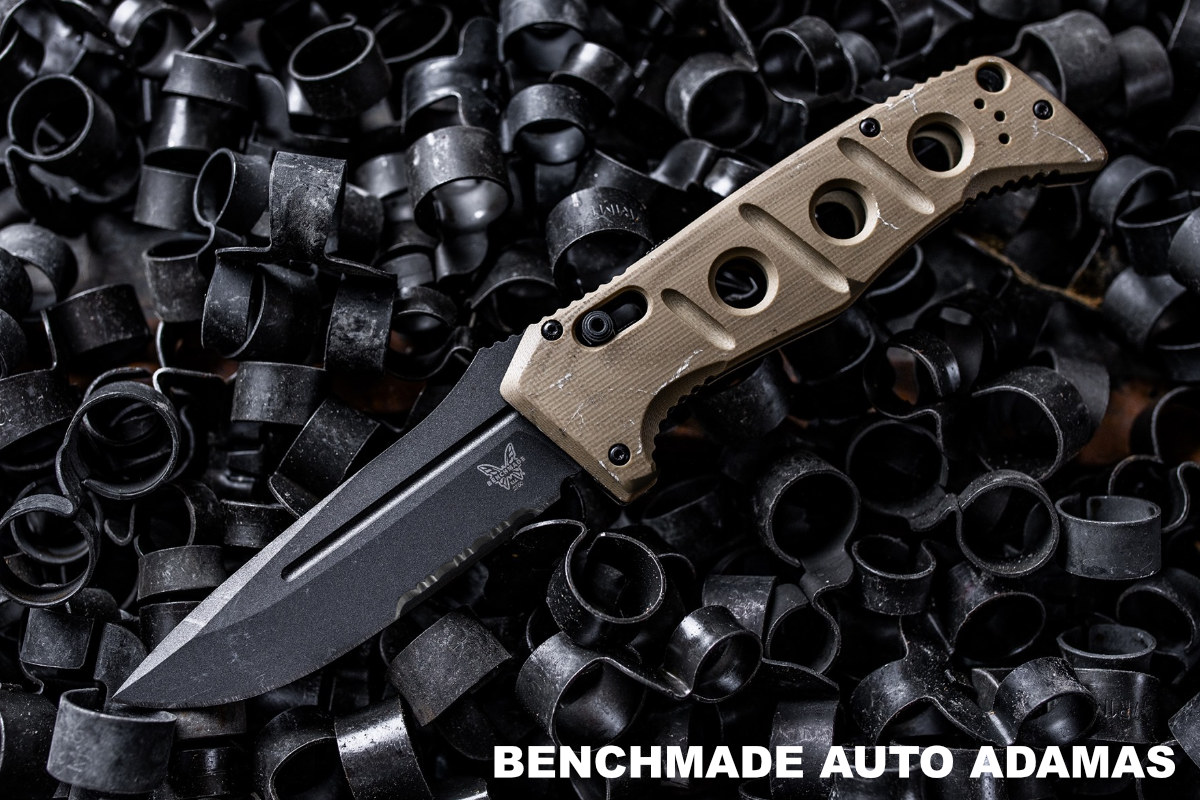 We've always called the Benchmade Adamas one of the best hard-use work knives you can buy. So what happens when you take that knife and turn it into an auto? You get one of the best Benchmade autos and one of the best hard-use work autos.
This knife has a long 3.78-inch blade made from upgraded CruWear steel. The desert tan G-10 handle helps cut down on the weight. But make no mistake; this knife is big and beefy.

9. Benchmade Casbah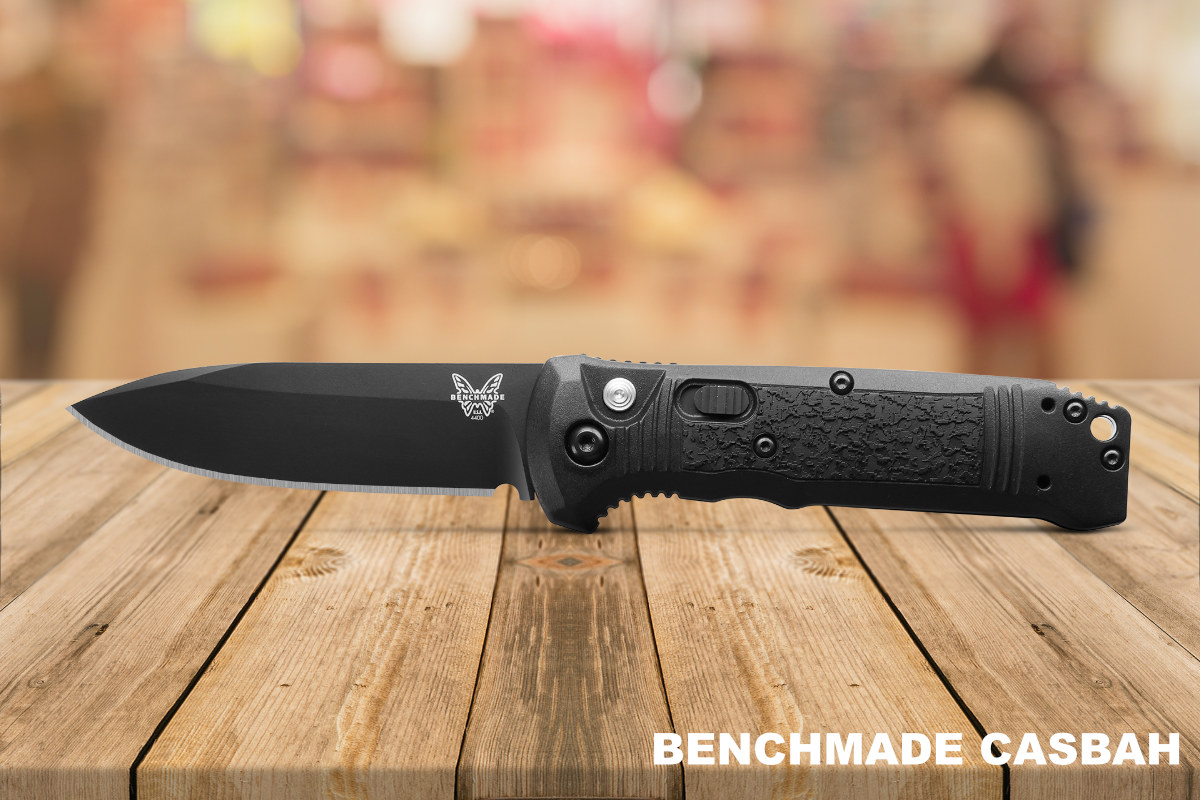 At first glance, the Casbah might not stand out as anything special. But sometimes you just need a knife that works and works well.
The Casbah has a 3.4-inch S30V blade with black coating. Its blade springs open lightning fast with the press of a button while a safety lock keeps the blade from accidentally opening and closing.
Its Grivory handle is highly textured, meaning you won't have to worry about the knife slipping out of your hand.
With its deep carry clip and no-nonsense design, the Casbah is a knife you can rock on a daily basis without giving it a second thought.

10. Benchmade Autocrat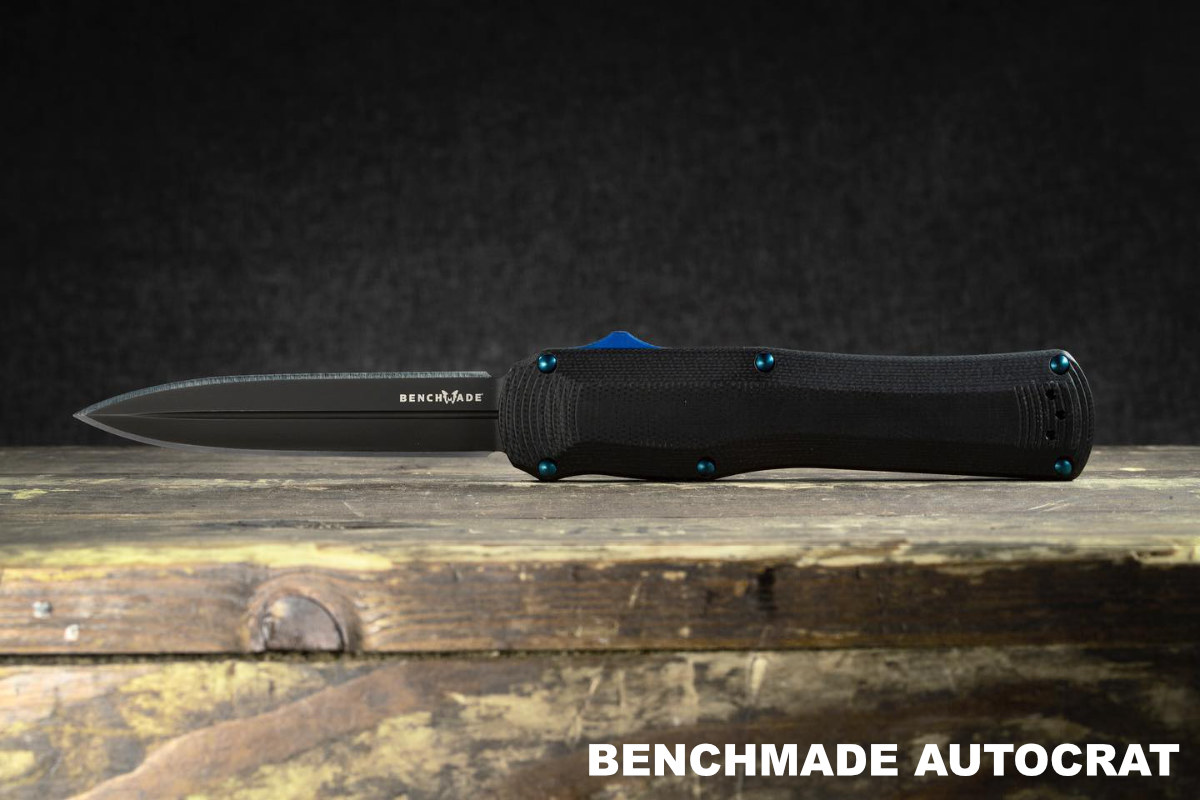 The Autocrat was Benchmade's first OTF to use composite handle scales, which gives it a different look and feel than the other OTFs on this list.
This is a slimmer folder with a long 3.71-inch S30V blade. Its black G-10 handle is contoured in all the right places and feels great in the hand.
Blue accented hardware further gives the knife a premium look and feel. This is the kind of knife you can take to a black-tie event, making it one of the best Benchmade autos.