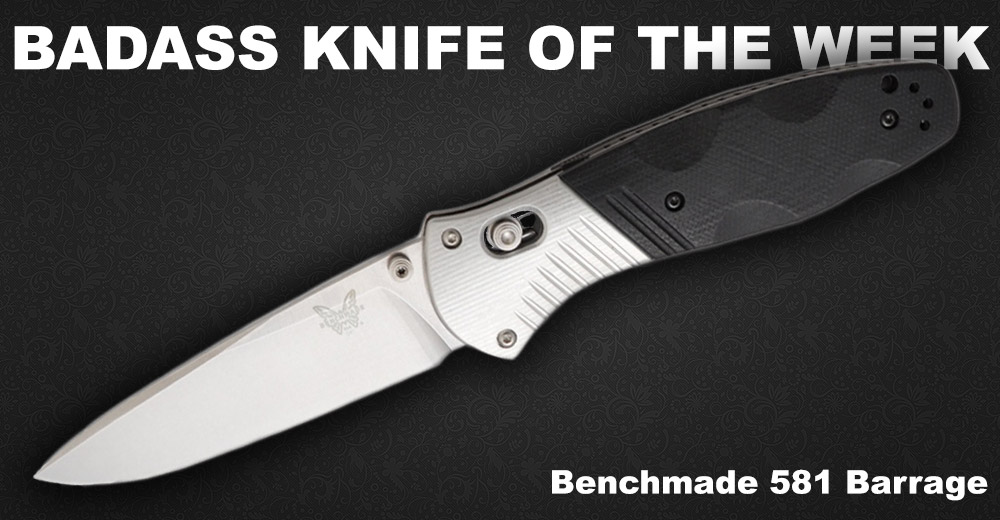 When the Benchmade 580 Barrage was first introduced in 2009, it was well-received. Not only was it the first AXIS-lock folder to include an assisted-opening mechanism but the folder helped further solidify Benchmade as a quality brand.
How could Benchmade possibly improve upon the impressive Barrage? Our latest Badass Knife of the Week shows how.
The Benchmade 581 Barrage is an updated version of the knife with premium flourishes that up the ante on what a knife can offer.
Designed by custom knifemaker Warren Osborne, the 581 Barrage features a 3.6-inch drop point blade just like the 580. What sets the two knives apart is the blade steel. The 581 Barrage uses Bohler M390 steel, which is esteemed for its very high wear and corrosion resistance. Along with its strength, the steel is also praised for holding an edge like nobody's business.
The 581 Barrage we're highlighting features a satin-finished blade with a straight edge, but the blade also comes in a partially serrated satin finish, plain-edged black finish, or partially serrated black finish.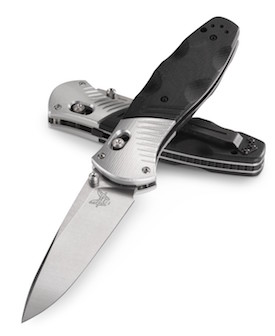 The upgraded handle of the 581 Barrage is made from G10 with aluminum bolsters. This changes the dynamic of the knife, giving it a more classy feel than the tactical look of its forebears. Machined grooves and finger indents provide an even stronger grip.
Using Benchmade's patented AXIS Assist, the blade rockets open with the push of the ambidextrous thumb studs and stays locked into place via a secure lock bar. For extra security, the Barrage features a switch that keeps the blade from accidentally opening or closing.
When you need a high-quality knife that opens as quick as lightning and won't quit on you, the Benchmade 581 Barrage is the obvious choice.
For more information on this Badass Knife of the Week, check out the product page for the Benchmade 581 Barrage.