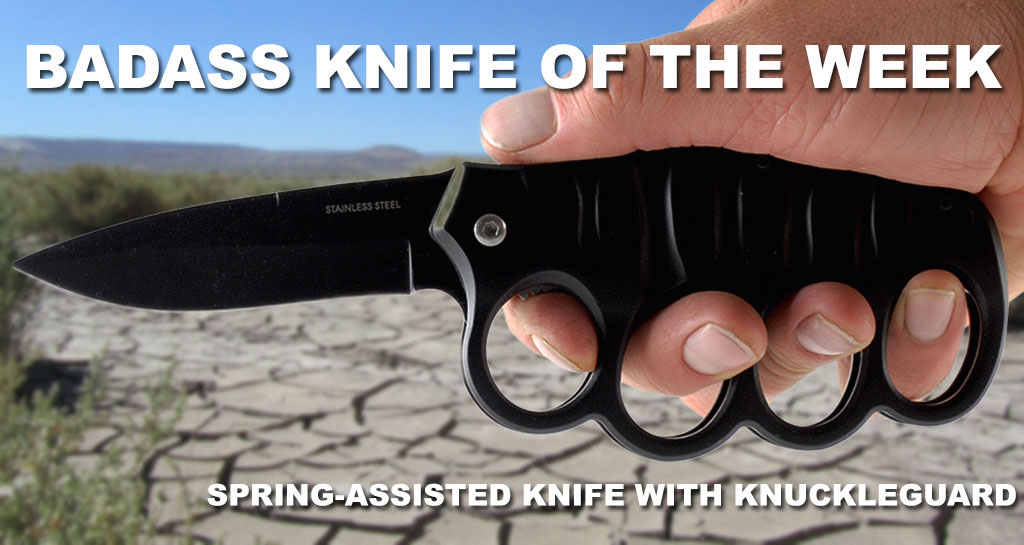 Our latest Badass Knife of the Week features a sick design that's not very common: it's a spring-assisted knife with a knuckle guard.
With its modern twist on the classic trench knife, this spring-assisted knife with knuckle guard is something to behold. The knife mimics the style of the popular combat knife from the two World Wars but adds some newer features that take it to the next level.
Not only is this knife a folder but it also has a spring-assisted opening mechanism that makes engaging the 2.8-inch stainless steel blade with one hand quick and easy. A flipper at the back of the knife allows the blade to pop open with some pressure from the index finger or thumb.
The knuckle guard on the overall 8-inch knife protects the fingers from close-quarters combat and can be used as brass knuckles in a pinch.
Aside from the badass design, the thing that really makes this a best-seller here at Knife Depot is the fact that it's so inexpensive. It's rare you can get something so cool at such a cheap price these days.
For more information on this Badass Knife of the Week, check out the product page for this spring-assist knife with knuckle guard.