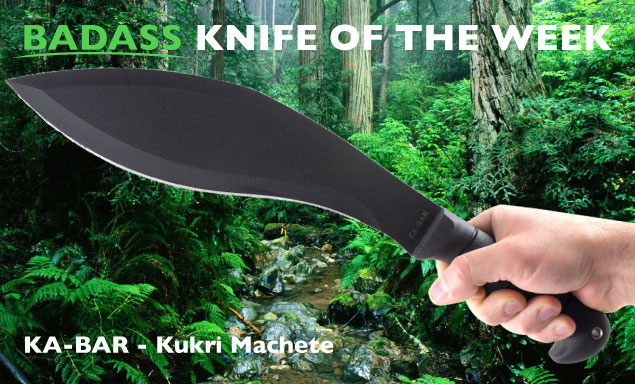 We all know the history and legend behind knives like the Bowie or Buck knife, but the kukri knife is one so seeped in tradition and romance that the KA-BAR adaptation of the knife is this week's Badass Knife of the Week.
The history of the kukri has roots in ancient times and has become something of a national symbol to the people of Nepal, who use the knife for nearly everything. The curved blade that makes up the kukri gives it the versatility to act as a weapon, agricultural tool or anything else you can imagine.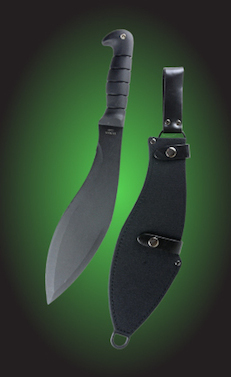 And the KA-BAR Kukri Machete is the best of its kind.
The knife boasts an 11.5-inch 1085 carbon steel blade with a functional angle of 20 degrees and a hollow grind. At an overall length of 17 inches, the kukri machete weighs in at 1.7 pounds, which gives it enough heft that it feels natural and balanced in your hands.
Like all KA-BAR products, the kukri is built to take on pretty much anything you can throw at it, including all the chopping and field use you can manage. The Kraton G handle features a nice butt cap and guard to keep it from slipping out of your grip.
As with any good knife, the Kukri Machete comes with a durable Cordura and leather sheath that attaches to your belt, so you can have it when you need it. With this beauty strapped to your hip, you'll be all set in the jungle.
Because of the simple fact that it has the versatility of a machete with the strength of an axe, the well-made KA-BAR Kukri Machete makes the perfect Badass Knife of the Week.
Want some more info on this week's badass kukri? Check out the KA-BAR Kukri Machete product page.
---