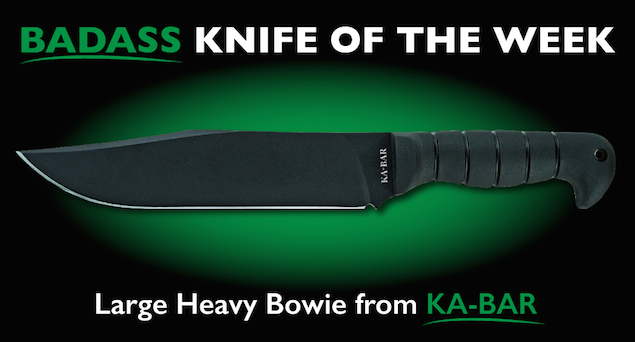 The Bowie knife has firm origins in the Old West when Jim Bowie used his large fighting knife during the duel known as the Sandbar Fight. Needless to say, the Bowie knife has been adopted and adapted in countless designs, including this week's badass knife.
Although the KA-BAR Large Heavy Bowie has the attitude and mannerisms of the original Bowie, this knife is undeniably from the 21st Century.
Featuring a whopping 9-inch 1085 carbon steel blade and weighing in at nearly a pound, this knife will always get the job done, no questions asked. Like the knives of old, this Bowie is a huge utility/fighting knife that does not mess around.
A quick look at the classic Bowie knives reveals the propensity for ornate designs with decorative handles and large hand guards, but the KA-BAR Bowie boasts a minimalistic design more common in recent knives.
Yet it's just as functional as any classic Bowie and every bit as dependable.
The 5.25-inch handle is made of highly durable Kraton that's grooved for a strong and reliable grip. Even more important is the comfort factor of the handle, which features a nice three-dimensionality that conforms to your hand.
When you're in need of a strong fixed blade to tackle heavy duty jobs, fewer knives match the intensity of the KA-BAR Large Heavy Bowie.
The knife makes the perfect companion for any badass outdoorsman and an included Cordura and leather sheath means you can always have the spirit of the Old West by your side.
Find out more about this week's Badass Knife of the Week at the KA-BAR Large Heavy Bowie product page.
---