Since the Internet is packed with so much cool knife information, we've decided to make it easy for you to get your knife news all in one place: here.  Each Thursday, we'll be hooking our readers up with a quick summary of new knife information, products and articles across the web.  Here's the skinny for this week.
Blade Show announces qualifiers for World Cutting Contest
The folks over at Blade Magazine have announced the qualifiers for the 2011 World Cutting Championship, which will be held on June 11 at the Blade Show in Atlanta, Georgia.  The crew is headlined by Donavon Phillips, the 2010 Blade Show World Cutting Champion, who is shown above. Other qualifiers are: Dan Keffeler, Ted Ott, Gary Bond, Evan Martin, Bud Robbins, Lars Rosenblad, Jose Diaz, Michael Eubanks and John Czagas.
Don't buy a a set of kitchen knives, just buy the ones you need
That's the advice of a cooking article this week in the Cleveland Plain Dealer, which gives the following advice.
You will waste money on specialty knives you won't ever use. Spend the money on the best 8-inch chef's knife, 4-inch paring knife and 12-inch serrated-edge knife you can afford. Those three knives will cost $130 to $150.
A review of Gerber's new portable saw
Gerber has a pretty badass saw that's on the market and the guys over at the Southwest Gerber blog just gave it a solid review.  The saw is about 13 inches long, has an 11-inch blade and weighs in at around one pound.  Here's a snippet.
Probably the most important aspect of the Gerber Gator Saw for that matter, is that it comes with an intensely sharp blade that will maintain its edge retention for a long time under normal use. While it's a great saw for camping jobs and smaller tasks, as one reviewer said, it's not designed for "sawing down redwoods.
Schools reconsidering zero-tolerance weapons policies
A Washington Post feature details how schools are reconsidering zero-tolerance weapons policies, many of which mandate the suspension of kids who unsuspectingly bring pocket knives to school.
The shift is a quiet counterpoint to a long string of high-profile cases about severe punishments for childhood misjudgments. In recent months, a high school lacrosse player was suspended in Easton, Md., and led away in handcuffs for having a pocketknife in his gear bag that he said was for fixing lacrosse sticks.
Last, but not least, here's a cool comic from Galesburg.com on the future of the pocket knife.  Have a good weekend and stop by next week for more knife news!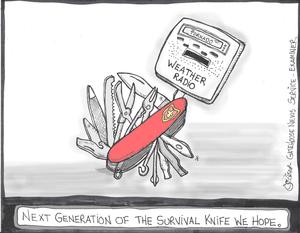 ---