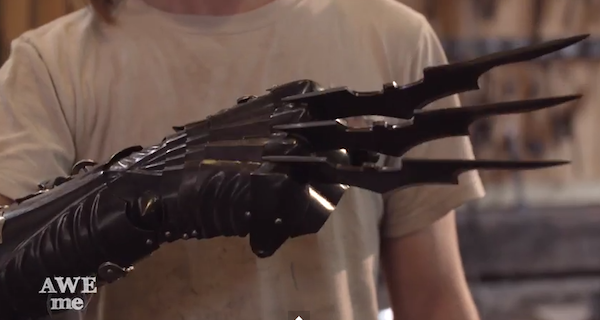 From the folks who brought you the riveting Man At Arms series comes with next iteration of the series… Man At Arms: Reforged.
Whereas the previous installment saw master bladesmith Tony Swatton recreate weapons found in pop culture (such as Sting from "The Hobbit" and the Lich King Frostmourne from World of Warcraft), this new installment reforges weapons from pop culture to create a new superweapon.
While we'll definitely miss Tony Swatton and his gang, the new crew from Baltimore Knife and Sword seem more than capable of holding their own.
Today's new video features a mashup of a lightsaber from Star Wars and a katana to perfectly meld the traditional with the futuristic. See for yourself:
This new series is ripe for hits and misses (see the previous week's every Teenage Mutant Ninja Turtles weapon made into one), but the lightsaber and Batman's Wolverine Claws show a ton of creativity and fun you could have with this .
Subscribe to the AWE me channel to see what they come up with in two weeks.
In case you missed it, here's video of Batman's Wolverine Claws being made:
---