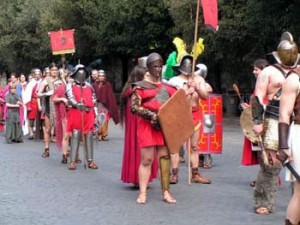 Does strapping on Roman armor and facing off with adversaries armed with swords and tridents appeal to you?
If so, you should check out the Gladiator School of Rome, where wannabe warriors don ancient attire and learn the ways of the gladiator.
The Italian school offers lessons in Roman-era combat, complete, of course, with togas, shields and combat skirts.
A recent Bloomberg article reported that the training was especially popular among CEOs, who feel the lessons in combat beef up their business acumen.
Giovanni Bonmartai, the CEO of Europe's largest printing-supply store, said the skills he picks up in the gladiator's ring transfer to corporate negotiations.
"Business is still hand-to-hand warfare," Bonmartini says. "And it's all encapsulated in the body: anger, excitement, challenge. That's why I come to the arena. This is an invigorating perspective and perfect preparation for the negotiating table."
If you happen to be in Rome, a two-hour session at the school will run you 30 Euros ($42). Not convinced?  Check out the video below.
---