When they say size doesn't matter, "they" have never held a Spyderco Civilian Folding Knife.
Spyderco Civilian Blade Length
This knife is one of the biggest, meanest pocket knives on the market with an overall length of almost 9.3 inches. It was created more than two decades ago to fill a need for undercover agents who had no way to protect themselves other than to carry a knife. Spyderco wasn't afraid to the unleash this beast to the public but you should know that this is not an everyday carry. It is for self-defense only.
One look at the reverse "S" SpyderEdge VG-10 steel blade, and you'll see why.
The pin point tip is intended to penetrate with ease and the intimidating serrated edge is meant to slash the skin down to the bone, causing significant injury. With a strong back lock there is no doubt the blade will stay open in a worst-case scenario situation.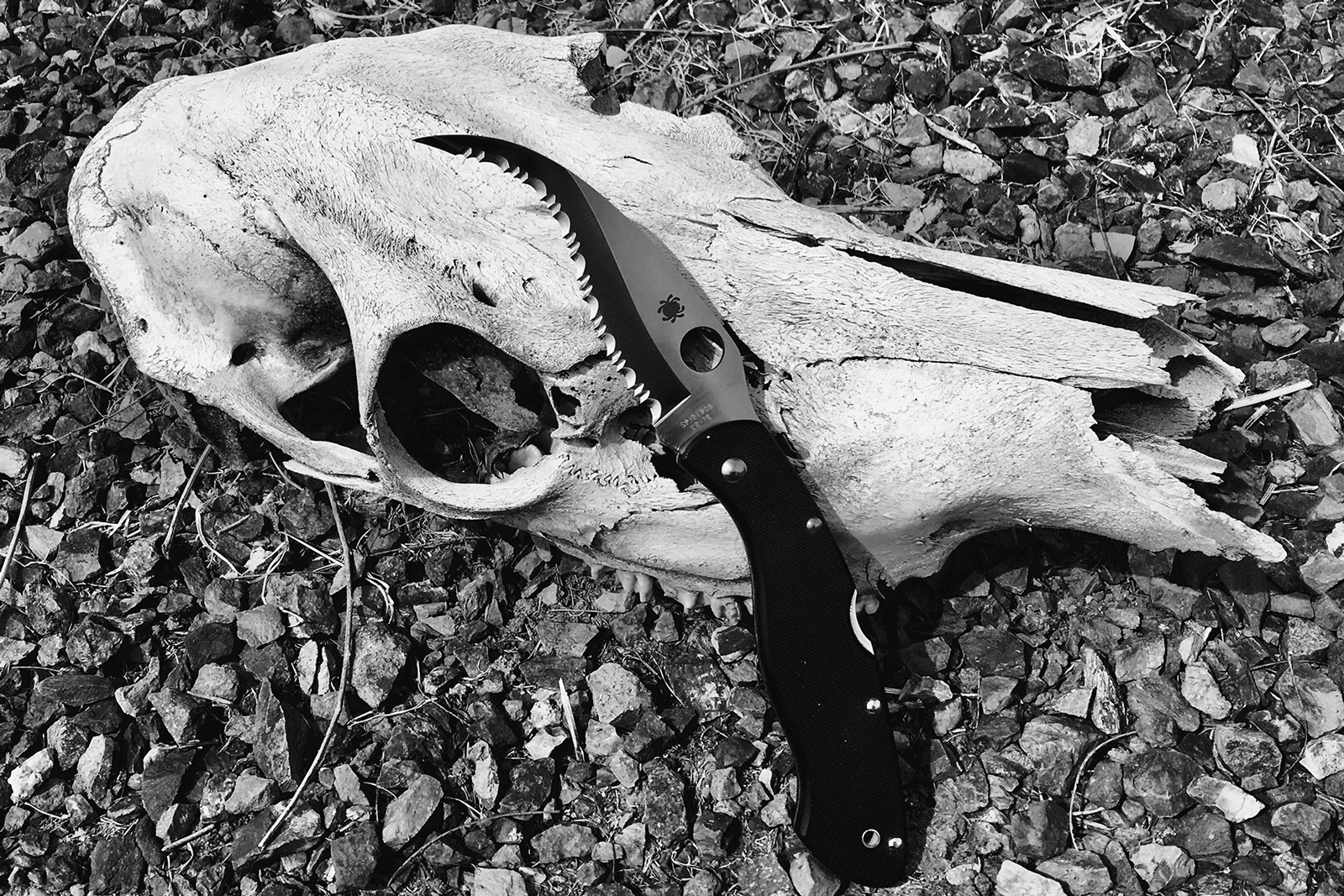 The sandpaper texture on the scales makes the large G-10 handle easy to grip and hold. One-handed opening is a breeze with the trademark Round Hole in the blade. Out of the box it is ready for tip-down carry but can be changed to tip-up carry with a Torx tool.
This is definitely one impressive knife to add to any collection.
My First Big Knife Purchase
I don't remember why (wait, do I need a reason?), but about 15 years ago I decided to make this my first "big" knife purchase — a gift for my husband.  I was only able to view it online and I ordered it through the owner of a local military supply store. I had never seen the knife in person, but I knew I had to have it.
When it arrived a week later, I'm not sure who was more excited — the store owner or me. Before he let me leave, he gave me a very stern warning about the destructive capabilities of this knife.
My husband, who grew up on a farm and very aware of knife safety, was thrilled with his new knife. The next day, when he opened the blade to show a few friends, he managed to slice open his finger down to the tendon.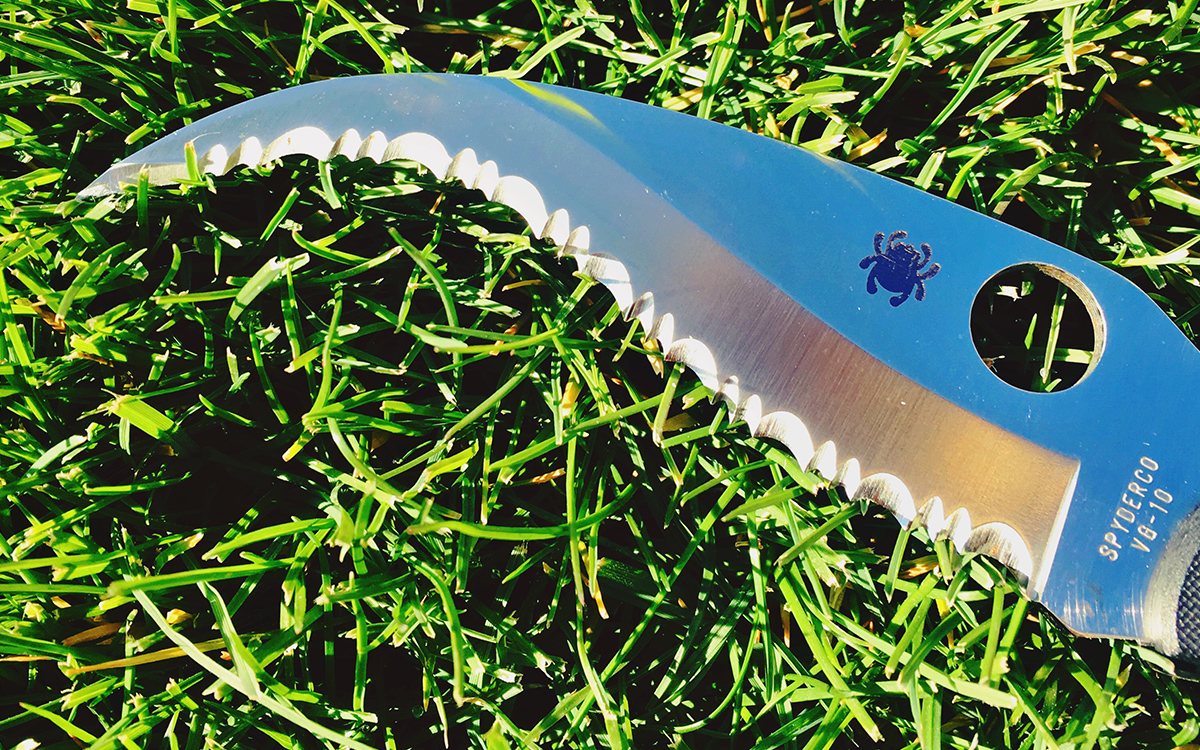 He didn't get stitches but I'm quite certain he should have. It taught a painful lesson that you can never be too careful when handling knives. He still has a sizable scar as a reminder.
After that one incident, the knife has never been used to cut anything again, so it hasn't needed sharpening.
Should the SpyderEdge ever seems dull over time, contact Spyderco and they will sharpen it in the factory for a small return shipping fee. If you're feeling confident and want to take on the challenge of sharpening the blade yourself, the 204MF Tri-Angle Sharpmaker is what you will want to use. It is recommended by Spyderco to sharpen all of their blades, plain and serrated.
There is a Spyderco-produced video posted on their site that explains how to use this unique sharpener.
Matriarch 2: Spyderco Civilian in a Smaller Package
If the size of the Civilian is a bit overwhelming, then I would recommend the smaller and less expensive Matriarch 2.  It has the same lightweight handle as the Endura 4 and measures in at 8.5 inches overall. Spyderco markets the Matriarch 2 as a "personal protection tool" for women, but there is nothing feminine about this slightly less aggressive version of the Civilian.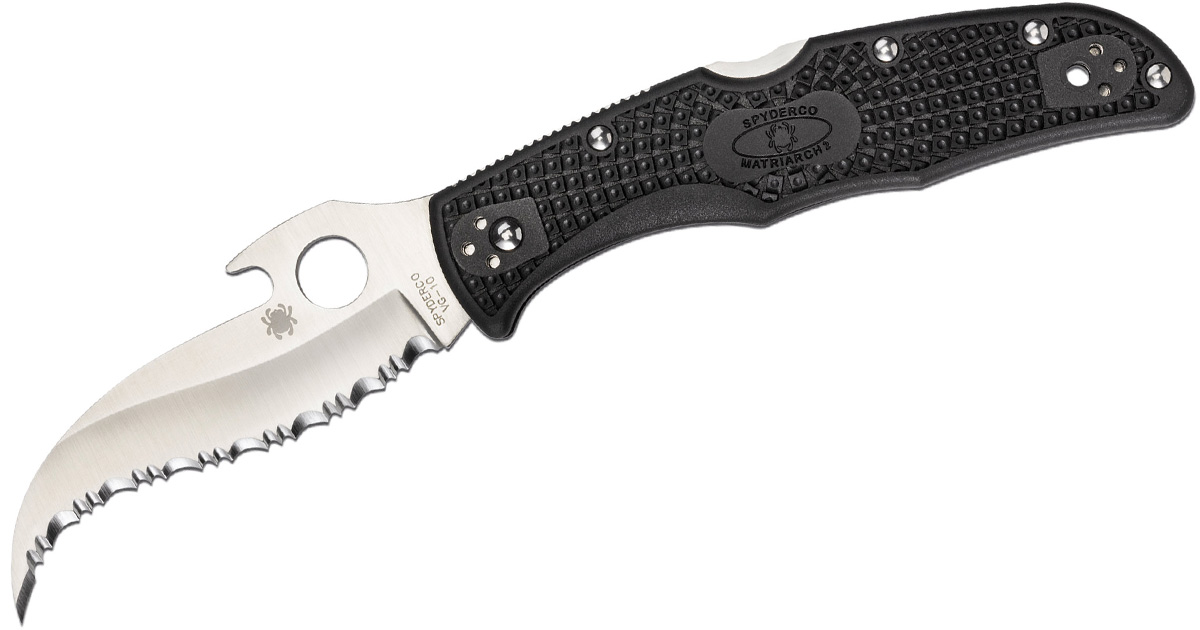 With the same VG-10 steel blade and secure back lock, you will feel just as confident having the Matriarch 2 by your side.
If you're in the market for a self defense knife, you can't go wrong with either of these choices. To be on the safe side, you may want to get one of each.
Jennifer Wood is a contributor to Knife Depot and writes knife reviews on different websites. You can follow her on Instagram @pocketknifehousewife or Twitter @PktHousewife.