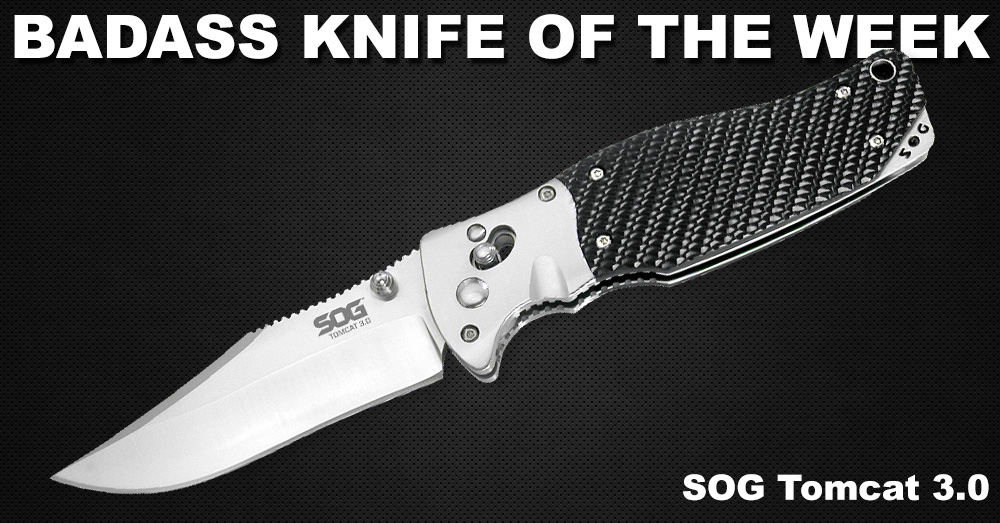 Back when SOG Specialty Knives introduced the Tomcat in the late '80s, it was not only the first folder from the company but it also won the award for Overall Knife of the Year. Nearly 20 years later, the third generation of the Tomcat continues to prove it is no one-hit wonder.
The SOG Tomcat 3.0 boasts a timeless look with a design that balances finesse with sheer strength. This gorgeous knife is a force to be reckoned with and features advances that any knife enthusiast can appreciate.
Here is a good overview of the knife from Tactical on YouTube:
It starts with the large 3.75-inch blade made from VG-10 stainless steel, which is a true workers' steel, thanks to its excellent corrosion resistance and ability to easily take and hold an edge. The satin clip-point blade also features jimping for better control and dual thumb studs for quick one-handed opening.
But what sets the Tomcat apart from many of SOG's budget knives is the inclusion of the Arc-Lock. This locking mechanism works seamlessly with either hand and has been tested at more than a thousand pounds of force. Needless to say, this lightning fast and exceptionally durable lock is one of the best around.

Below the bolster, which includes finger slots for a comfortable grip, is a textured Kraton handle. Not only does the handle provide a secure surface in different environments but it also feels great to the touch.
Rounding out this Japanese-made knife is a few bonus features, including a lanyard hole and "SOG" logo cutout in the stainless steel liner near the butt. The Tomcat 3.0 is truly a study in thoughtful design and superb craftsmanship.
For more information on this Badass Knife of the Week, check out the product page for the SOG Tomcat 3.0.