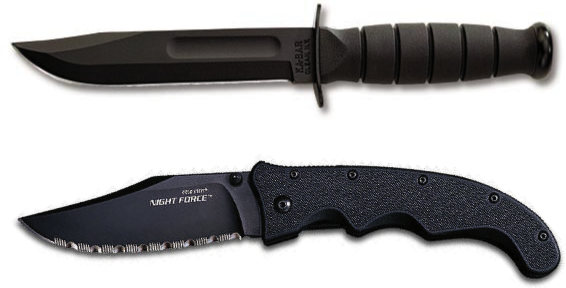 It's an age old debate that many knife enthusiasts have discussed for hours into the night in windowless rooms: serrated edge or straight edge?
I think the discussion is often unfairly simplified to a this-one-is-overall-better-than-that-one debate, which is simply untrue.
While you may have personal preferences for different reasons, the functionality of a serrated blade versus a straight-edged blade really depends on what you're using it for. So, if you're thinking about what type of blade you're like to get, here are some pros and cons about serrated, straight and partially serrated blades.
Straight-Edged Blade
A straight-edged blade looks exactly how it sounds: straight. The great thing about straight-edged blades is that it is typically extremely keen and pointed. This sharpness allows for better precision and control over the knife. It's also ideal for anything that requires push cuts, which are cuts that find you pushing through things instead of actually slicing them. Push cuts are used for things like shaving, cutting apples and potatoes and chopping wood.
Serrated Blade
Edges with fine-protruding teeth are serrated. Unlike the straight-edged blade, serrated blades are less precise but are fantastic for slice cuts. Slice cuts are cuts that require you to drag the edge of the the blade back and forth over the object to cut it. For example, items like bread, tomatoes, rope and strappings need to be sliced.
Partially Serrated Blade
Many knives now have the best of both worlds with a straight edge at the top and serrated edge at the bottom of the blade. These are particularly useful for survival knives that are used for a variety of purposes out in the wild. The major downside, which you can read more about here, is that they are sometimes serrated at the wrong place and can be very difficult to sharpen.
So the short answer to the question "serrated or plain" is it depends on what you're using it for. If you push cut more, than a straight edge is better. If you slice cut more, than serrated is better.