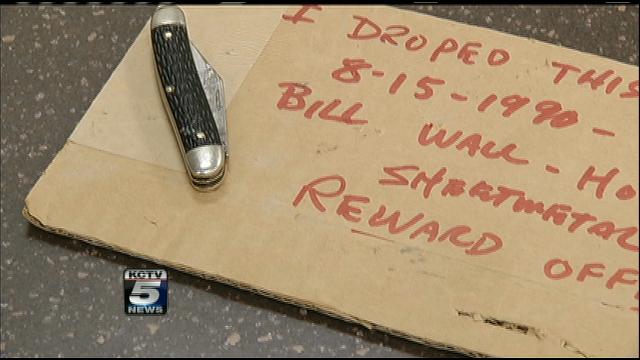 We all know what it's like to have a favorite a knife. That one piece of steel that conforms perfectly to your grip, never seems to lose its edge and gets you out of any bind. Chances are you also know what it's like to lose your favorite knife.
That's what happened to one construction worker 22 years ago, according to KCTV 5. While helping in the construction of St. Luke Hospital's Heart Institute in Kansas City, Mo., Bill Wall dropped his knife into a wall and was unable to retrieve it. So, he made a sign saying he dropped his knife and would like it back. Then, he threw it in after the lost knife.
Twenty-two years later, that heart institute is being redone as a new neuroscience institute and one of the construction workers found the lost knife.
While construction worker Greg Dunwoodie sought out Bill Wall, he found his son Alan who explained that Bill had died three years ago.
Still, the fact that Dunwoodie went out of his way to return the knife to its original owner indicates a sort of kindness and appreciation for knives that's hard to find in this world. By returning the knife, Dunwoodie allowed Alan Wall to reminisce about the humor and love for the absurd his dad embraced.
Here's more from the article:
Alan Wall is in the construction business. He said he's lost plenty of tools over the years. Some have been returned, some have never been found. He is very grateful to Dunwoodie.

"I was excited (to get the knife back) especially with him passing. It was kind of neat," Alan Wall said.

Dunwoodie shrugs off the thanks.

"It's just the right thing to do," he said.
Take a look at this video from the news station that first reported the story to see more of the actual knife.
KCTV 5