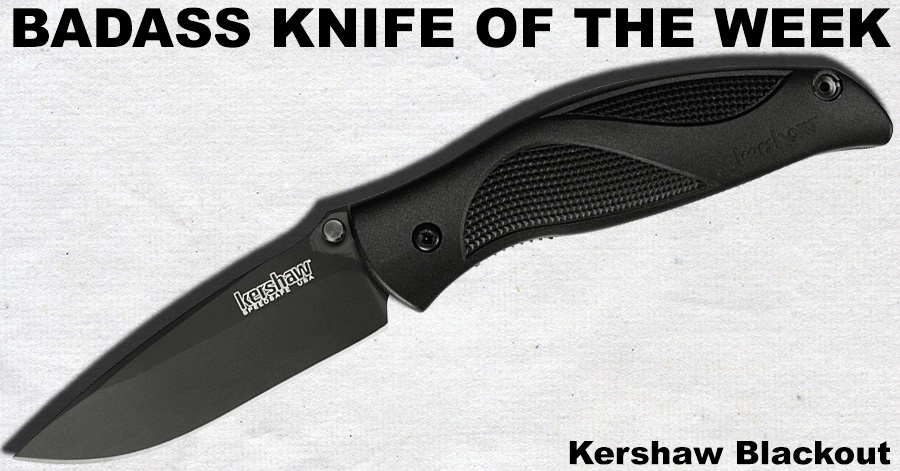 Just because a knife has been around for more than 15 years doesn't mean it's any less worthy of praise and elevation. In fact, our Badass Knife of the Week proves that a great knife will just keep getting more and more popular over time.
Originally released as one of the first knives to feature Ken Onion's revolutionary SpeedSafe assisted opening mechanism, the Kershaw Blackout continues to garner fans and appreciation with every passing year.
Why? Just take a look at it.
The Blackout is the very definition of sleek, with a black 3.25-inch blade made from Sandvik 13C26 stainless steel. The alloy performs well under stress, holds an edge, and resists corrosion. Scratch-resistant Tungsten DLC coating will keep the blade a clean black, even through everyday use. A drop point blade profile, accompanied by a slight swedge, ups the knife's overall versatility.
The SpeedSafe mechanism works as well at it did the day it was introduced. With a push of the thumb stud, the mechanism will take over after a certain point and shoot open the blade with ease. And the liner lock will make sure it stays open.

Completing the all-black look of the knife is an ergonomic handle made from durable glass-filled nylon. A contoured shape along with texture ensures a solid grip no matter what.
Finally, a functional black—did you expect otherwise?—pocket clip makes the Blackout a no-brainer as your next EDC.
The Blackout is proudly made in the United States.
For more information on this Badass Knife of the Week, check out the product page for the Kershaw Blackout.