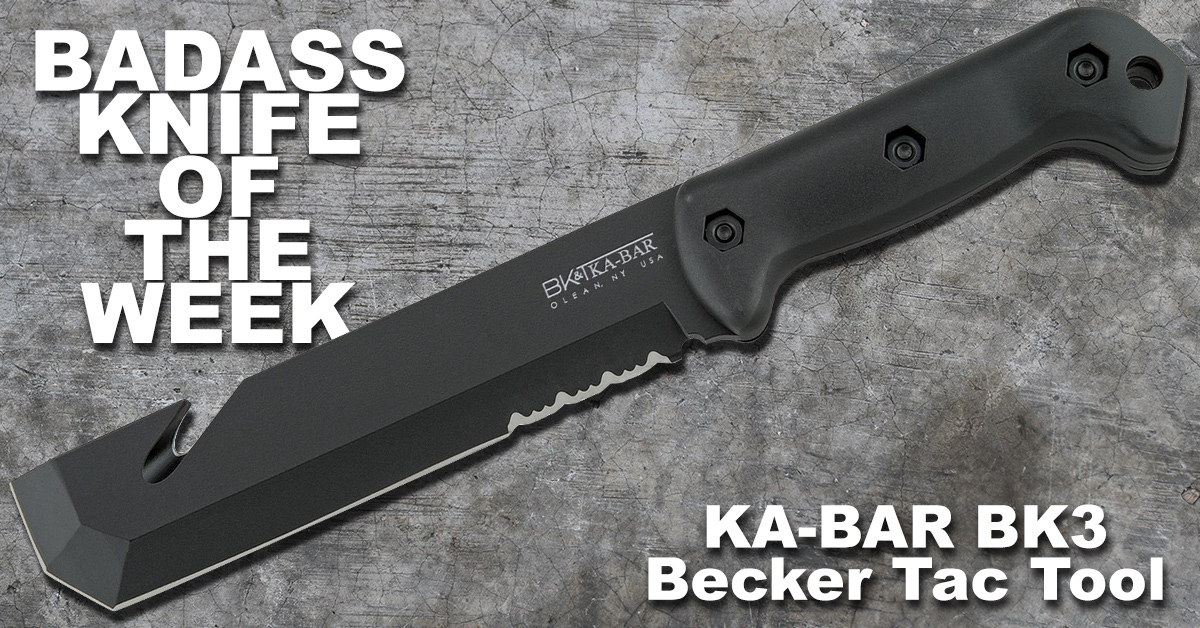 I know your dad always told you, "Never ever use your knife to pry." But he's clearly never used the latest Badass Knife of the Week.
The KA-BAR BK3 Becker Tac Tool is the ultimate tactical fixed blade that takes the definition of hard-use knives to a whole new level. This knife is designed to be used and abused, tortured and beaten, and pushed to the extreme.
Legendary knifemaker Ethan Becker and 37-year police veteran John Benner designed the Becker Tac Tool for urban SWAT teams who would need a reliable tool that could pry, chop, hack, chisel, hammer, and more. Although the boys delivered a remarkable tool for SWAT teams, the BK3 has taken on life as an all-around survival tool.
The heart of the Tac Tool is the beastly blade. Coming in at a hefty 7 inches, the blade is made from 1095 Cro-Van steel with a thickness of a quarter of an inch. The partially serrated blade is powerful enough to pry open doors without breaking a sweat and a slot on the black offers another method for cutting rope or saving lives.
A powerful tool needs a powerful handle, and KA-BAR delivers. The Ultramid handle scales are as durable and comfortable as they come. When you're breaking through a window with this tool, your hand will feel like it's gripping a pillow.
This USA-made knife comes with a MOLLE compatible hard plastic sheath that makes carrying this tool easy and effortless.

Whether you're serving this great country overseas or trekking through the woods, you'll want this hard-use knife right by your side.
For more information on this Badass Knife of the Week, check out the product page for the KA-BAR BK3 Becker Tac Tool.