This is the eighth installment of The Cutting Edge's culinary article series: Hot Kitchens, Hot Knives! Cooks and foodies almost love geeking out about their knives as much as they love food (and at times, even moreso!), so we'll be sitting down with chefs, kitchen crews, and bloggers all across the world to ask them about their knife collections and the culinary workhorses that they know and love. Check out this series every Tuesday if you want to find out what kind of heat the guys and gals in the kitchen are packing in their knife rolls.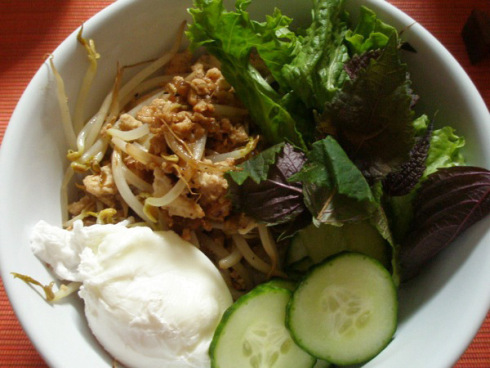 After talking to chefs, big-name bloggers, and hunters for the past few months, I've come to realize that I, too, have a knife philosophy of my own that I'd like to share! Here's a little background about myself, but I'll spare you from anything too self-fellating: I've run my cooking blog, The Kitchen Bitch, off-and-on for the past 7 years. Since then, I've worked as a professional food writer, writer-writer, and cook for a few years, and now I'm writing for the illustrious Cutting Edge! I also, of course, have a butt-load of knives.
More on my knives, Japanese blade fetish, and the silliness of knife sets after the jump!
My collection began with a humble 8″ Victorinox Forschner that I bought myself as a 21st birthday present. I picked it out after reading that it was the best low-end chef's knife in Cook's Illustrated, and I remember how thrilled I was to take it out of its plastic clamshell case. The day I received it, I began my tradition of christening all of my new knives by using them to cut cleanly through sheets of printer paper. Kind of dorky, I know, but it's my party and I'll cut if I want to.
I used the Forschner for years, even going into my professional career as a line cook. At that point, I began to realize that I could only push that knife so far — the 50-pound boxes of potatoes would be remain a weekly constant, but I could dice them faster if I had a knife that could keep its edge longer. So I saved up (read: refrained from my weekly pizza slices) for months to purchase a Misono UX10, which is made from Swedish stainless steel that is almost as hard as carbon steel. Despite its lightness, it makes quick work of the heaviest squashes and potatoes and cuts of meat. Yes, it is a mint ($240! woo!), but the knife's lightness and endurance are definitely worth it in the long run. This is basically the lord emperor of economical knives.
The first time I brought it to work, everyone in the kitchen gathered 'round to marvel at it. (When I went to the bathroom, I came back to find a big thumbprint on the blade! Knife nerds, man.)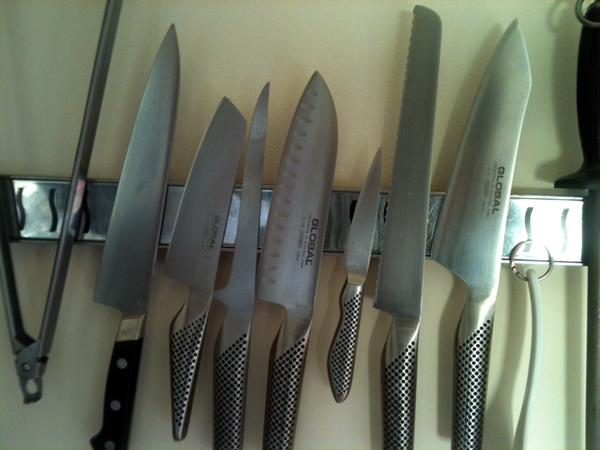 The qualities that I've looked for in my knives since then have been edge retention, lightness, and easy sharpening. Japanese knives tend to have all three, so those are the types that I gravitate toward. Thus, I have a lot of Global knives, a few MAC knives, and my big ol' Misono. Since I don't really cook professionally anymore, they really only need a good sharpening once a year; in the meantime, a quick tuning with my steel will do the trick.
One of the things that I love about the world of knives is that you do truly get what you pay for. Despite the fact that celebrity chefs and designers have been getting into the game, most of the knife world remains a meritocracy.
My biggest piece of advice to home cooks is that knife sets, while convenient, give you a lot of chaff that you don't need. Like are you ever going to use a filet or boning knife, for real? It would just be more practical to spend that money on a chef's knife (super versatile and can do most, if not all, kitchen jobs), paring knife, and serrated knife.
---