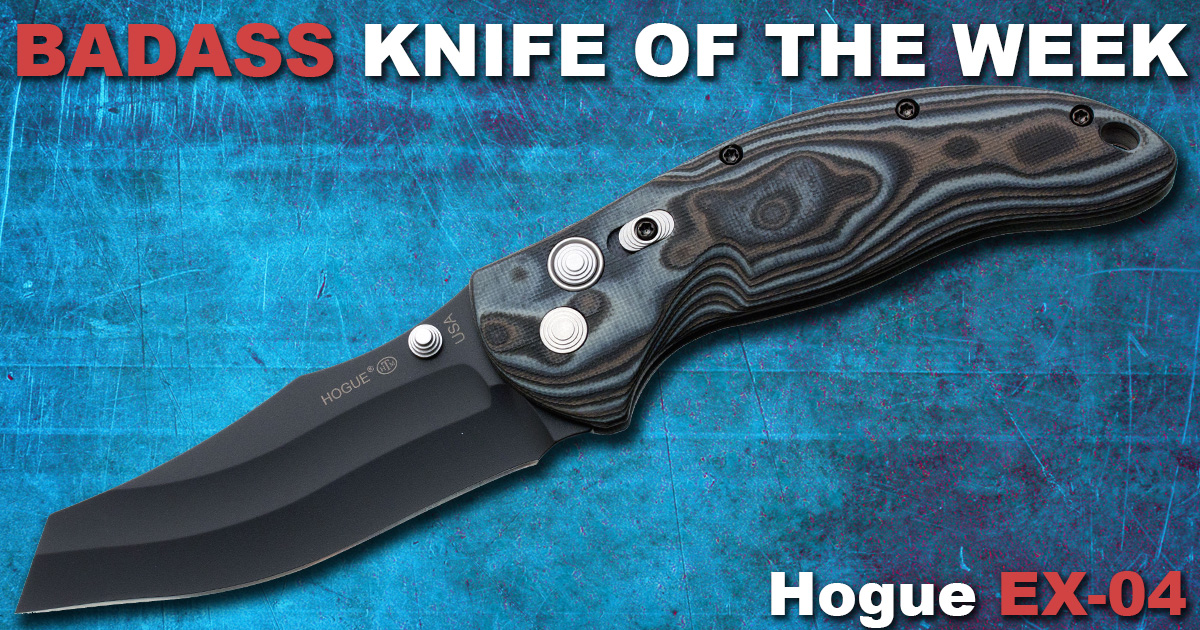 Today is the Fourth of July, which just happens to coincide with our weekly Badass Knife of the Week selection, so it's only pertinent to choose a knife made in the USA.
Hogue Inc is a company with a family tradition of American quality and innovation dating back to 1968. The company may be best known for its guns and gun accessories, but the Hogue EX-04 is a knife to be reckoned with.
The Hogue EX-04 is the next generation in the Extreme Series. These uniquely designed knives are aesthetically appealing and reliably functional.
Designed by Allen Elishewitz with cues from his Jekyll and Hyde custom knives, the EX-04 comes in two different blade styles. The one we're highlighting here is the 3.5-inch modified Wharncliffe version. The blade profile is simultaneously angular and curvaceous, giving the user a deep belly for slicing and a hook-like point.
Here is an excellent look at the knife from The Edge Observer:
The blade is made from cryogenically treated 154CM steel, which is corrosion-resistant and retains a good edge despite regular use. A fuller-like section in the middle of the blade helps cut down on the weight of the knife and creates a masterful double hollow grind.
Following in the footsteps of the EX-01 and EX-03, the EX-04 features a button plunge lock. The mechanism not only pulls double duty as a ball detent but it also withstands abuse without conceding strength or durability. A manual safety prevents any accidental closures.
Much of the personality of the knife reveals itself in the contoured handle that can be held in a variety of positions. This version features black and gray layered G10 in lava. Referred to as G-Mascus, the handles come in different colors, including red and black, blue and black, and solid black.

A tip-down spoon-styled pocket clip keeps the knife securely in your pocket. Considering this is the kind of knife you'd want to show off to your friends or whip out when you need to do a mundane task, you'll be carrying the EX-04 everywhere.
And because this is the Fourth of July, the knife is made in the United States and proudly has USA engraved beneath the thumb stud.
The Hogue EX-04 also comes in a 3.5-inch blade with an upswept blade in different handle colors. You can see more Hogue EX-04 options here.
For more information on this Badass Knife of the Week, check out the product page for the Hogue EX-04 3.5″ Wharncliffe in black and gray G-Mascus.