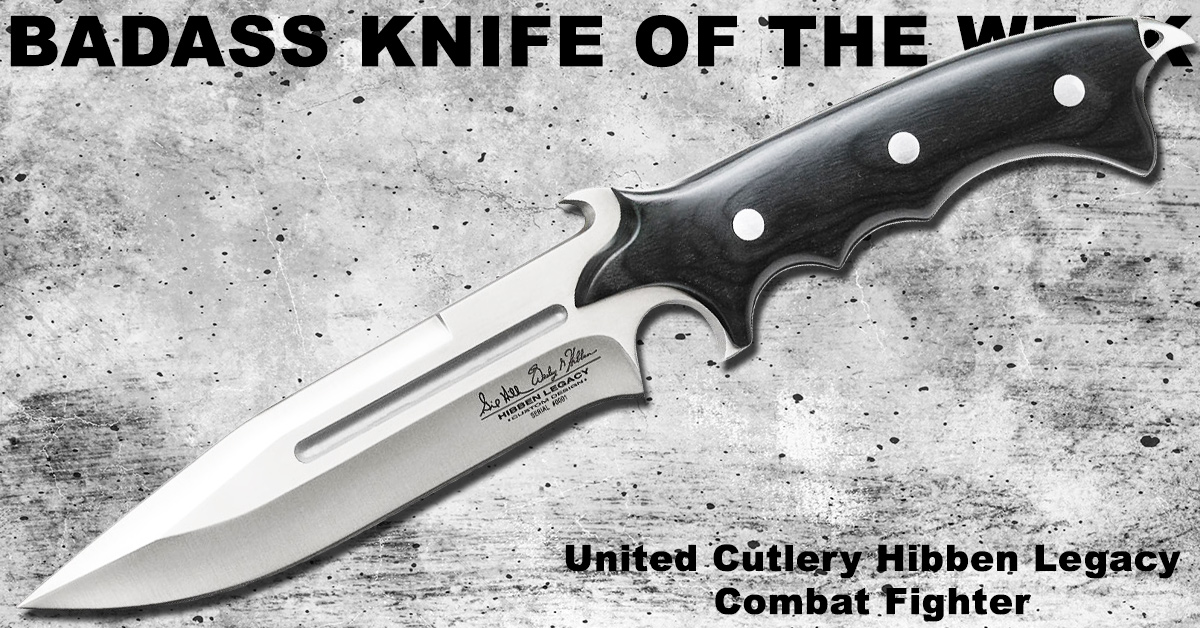 With Father's Day this weekend, we thought it'd be pertinent to choose a knife that was made through a collaboration between father and son. Since we already featured the Spyderco Paramilitary 2 (from Sal and Eric Glesser) as a badass knife, we thought the next logical knife would be the United Cutlery Hibben Legacy Combat Fighter.
Gil Hibben is as close as you can get to a living legend in the knife community. Since 1964, the president of the Knifemaker's Guilde and Cutlery Hall of Fame inductee has made countless knives, revolutionized the limits of design, and made knives for tons of movies.
It's only logical then that his son would learn a thing or two from such a renowned knifemaker. But Wesley Hibben has not relied on his dad's name or reputation to come into his own right as a respected knifemaker.
The Hibben Legacy Combat Fighter is the first ever collaboration between Gil and Wes and the results are spectacular.
Here's a quick visual overview:
Its 5.875-inch blade features a razor sharp edge and a spear point tip with flourishes that give the design personality and ferocity. A pronounced finger choil allows the user to choke up on the blade while a raised thumb rest at the start of the spine offers extra control for finer tasks. A fuller also helps reduce the overall weight of the 12-inch knife.
The knife acts essentially as a functional collectible. Every blade is etched with Gil and Wesley Hibben's signature and laser-engraved with a serialized number.

The black wooden handle wraps around the full-tang with an ergonomic grip that allows for different carrying positions. A spike at the butt of the knife includes a hole for a lanyard.
Along with a custom leather sheath that's stamped with the Hibben Knives Custom Design Series logo, the Hibben Legacy Combat Fighter is a knife you'll want to pass down for generations.
For more information on this Badass Knife of the Week, check out the product page for the Hibben Legacy Combat Fighter.