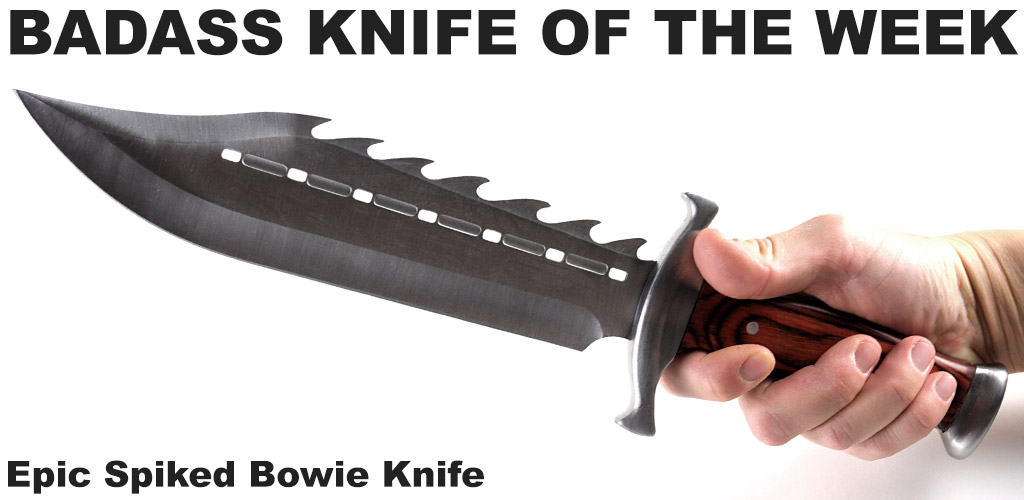 When we rack our brains trying to decide which of the thousands of knife models out there deserves to be the latest Badass Knife of the Week, we take a ton of things into consideration. We usually try to make the knife something you could reasonably use and carry in most situations.
But sometimes a knife is simply so epic and badass that it takes the honor on looks and design alone.
The Epic Spiked Bowie Knife is a beastly blade to behold.
When Jim Bowie first designed his famous Bowie knife, he probably never could have envisioned a knife as badass as this one.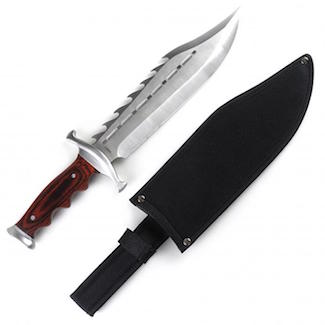 This best-selling Bowie boasts a 9.5-inch stainless steel blade with stylish cutouts to reduce the weight of the full tang knife.
But the real kicker of the knife is the spiked sawback serrations that look absolutely ferocious.
Its ergonomic hardwood handle features a contoured grip for extra security when wielding this monster. The spiked stainless steel hand guard will also keep your hand from sliding onto the blade with heavy use.
The Bowie comes with a nylon sheath, so you can carry this knife where you want. The best part is that this knife is affordable for any knife collector or enthusiast.
For more information on this Badass Knife of the Week, check out the product page for the Epic Spiked Bowie Knife.