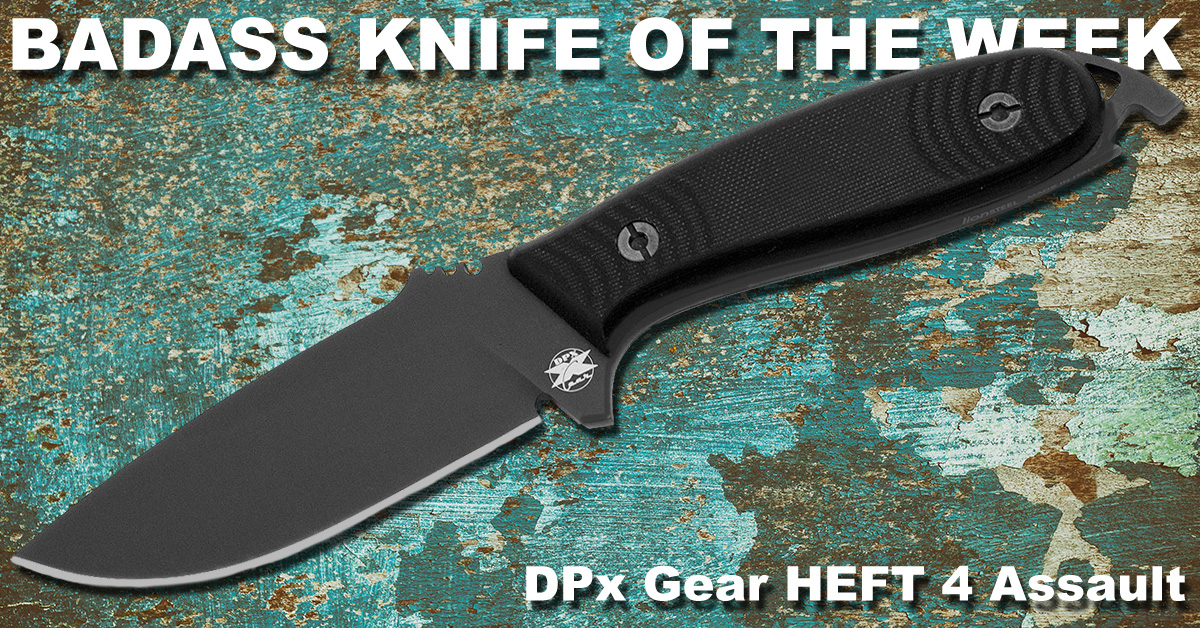 DPx Gear knows a thing or two about making a badass knife. The brand reshaped what a survival knife can be with its designs called HEST (Hostile Environment Survival Tools).
Our latest Badass Knife of the Week takes the HEST idea to the next level. Meet the HEFT 4 Assault.
The DPx Gear HEFT 4 Assault upgrades the HEST concept and makes the knife bigger, harder, and more versatile. The HEFT, which stands for Hostile Field Environment Field Tool, boasts a truly badass design.
The HEFT 4 Assault features a 3.94-inch blade made from high-performance Lohmann Niolox steel. If you're unfamiliar with this largely German steel, Niolox is known for its excellent stain-resistance, superb edge retention, and overall durability.

The blade is coated with black satin Titanium Carbo-Nitride (TiCN) PVD coating to remove the blade's reflective properties. Its blade profile is an understated yet versatile drop point.
Contoured black American G10 scales conceal a hollow handle where you can store small essential items. The scales are secured by two 304 stainless steel hybrid slotted/Allen screws.
Integrated into the knife is an array of useful tools you may need out in the field. The spine features wire strippers in three sizes that also double as jimping for tighter control. A striker pommel, bottle opener, lanyard hole, and lashing points are all thoughtfully crafted into the handle.
Here is a video of the HEFT 4. Please note that it's not the Assault version.
The knife also comes with a Cordura sheath that allows you to carry this fixed blade wherever you go.
Designed by Tommaso Rumici with contributions from Robert Young Pelton and made by LionSTEEL in Maniago, Northern Italy, the HEFT 4 Assault will become your go-to fixed blade in any situation.
For more information on this Badass Knife of the Week, check out the product page for the DPx Gear HEFT 4 Assault.