No longer are chili peppers limited to spicy Mexican and Tex-Mex dishes. The small, green peppers can be found in everything from steak marinades to mashed potatoes. If you don't know how to handle them, you are keeping yourself from trying great new recipes. Plus, you miss out on an easy way to add some pizazz to basic dishes of your own.
If you have avoided hot peppers in the past, however, we understand. Knowing how much spice the peppers have can be intimidating if you don't know how to cut them properly. To help you avoid burning your skin or mouth and to introduce you to the world of cutting chilies, we got back with Kathy Maister, who helped us out on the How to Slice an Onion post. Ms. Maister's site StartCooking.com is a great resource for busy people who are just learning to cook.
Grab your paring knife
Remember when we told you that Ms. Maister had three knives she couldn't live without? Those were her paring knife, serrated knife, and chef's knife (she commented on the onion article emphasizing that these must be "sharp!"). If you were wondering why the tiny paring knife is a necessity for the kitchen, here is your answer. Cutting any small pepper is the perfect use for a paring knife. The short, pointed blade makes it easy to deftly cut and seed a pepper.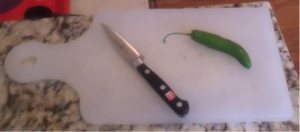 Be careful!
Peppers get their spiciness from oils that are primarily in the seeds and ribs. When you cut into a pepper, you run the risk of getting these oils on your hands. Because of this, many people wear kitchen gloves while handling peppers. Gloves are not necessary, but, if you choose not to wear them, be mindful of your hands. Try to avoid contact with the ribs or seeds and clean up well when you finish cutting.
Cut the pepper in half
Cut the pepper in half with your paring knife. You can now see the whitish colored ribs inside the pepper.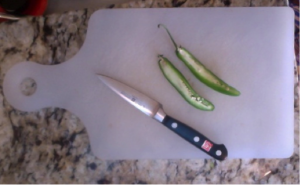 Seed the pepper
By taking out the seeds and ribs, you are removing most of the pepper's heat. There are two ways to go about seeding. When using a paring knife, hold the stem of a pepper half and slide the knife underneath the rib. Moving away from the stem end, slide the knife down the sides, popping out the rib and seeds. If any seeds are left behind, scrape them out with the blade's backside. Ms. Maister says you could also seed the pepper with a spoon or melon baller – just scoop out the insides!
Slice the pepper lengthwise
Once you've seeded the pepper, you can chop it. Cut strips going lengthwise on the pepper half. Space the strips according to the size you want. If you are chopping, make larger spaces, but if you are mincing, the slices should be closer together.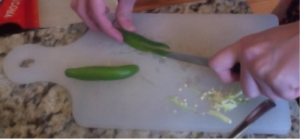 Slice the pepper across
Now, slice the pepper in the opposite direction. Space your slices just as you did in the last step. Repeat with the other side. You should now be left with a chopped, diced or minced pepper that is ready to be tossed into your dish!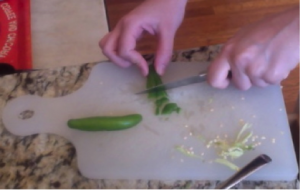 Clean up
The pepper's oils can linger on your skin and underneath your fingernails for many hours. If you didn't wear gloves, make sure you wash your hands with water AND soap after you finish handling the pepper. Even after a good scrubbing, Ms. Maister says you should avoid touching your mouth, nose or eyes just to be safe. The oils would hurt badly if they started to burn you here!
Know your peppers
Since so many hot peppers can be easily confused, it's good to know what different ones look like and how spicy they are. Ms. Maister has a great list of peppers with their pictures and heat index on her site.