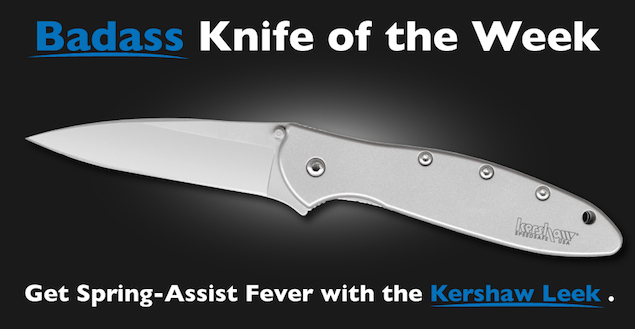 After a long, cold winter, spring is finally here. And there's no better way to celebrate the arrival of spring than picking one of the best spring-assisted knives as the Badass Knife of the Week: the Kershaw Leek.
The Kershaw Leek is widely considered an awesome spring-assisted knife and typically appears on lists naming the best pocket knives on the market (including our own list).
Here's why: The Leek may very well be the perfect EDC.
Kershaw LeekIt features a 3-inch, Sandvik 14C28N steel blade with a bead-blasted finish and a reliable frame lock. It's entirely functional and made to be durable, but it also has a good-looking design that you'd never be ashamed to whip out.
The knife was designed by renowned knifemaker Ken Onion, who invented the SpeedSafe assisted opening mechanism.
When you need the Leek in a pinch, all you have to do is pull back on the flipper or use the thumb stud for a quick engagement.
The reversible pocketclip allows you to carry the knife either tip up or tip down and the assisted opening mechanism allows you to engage the knife with one hand, regardless of which one you use. That means the Leek is exactly where you want it when you want it.
Still not sold this is a badass knife? Whereas many manufacturers are looking overseas for production, the Kershaw Leek bears the "USA" marking, so you know that the knife is made in the good ol' United States. That's nothing to take lightly.
For more information about this week's badass knife, check out the product page for the Kershaw Leek.
---