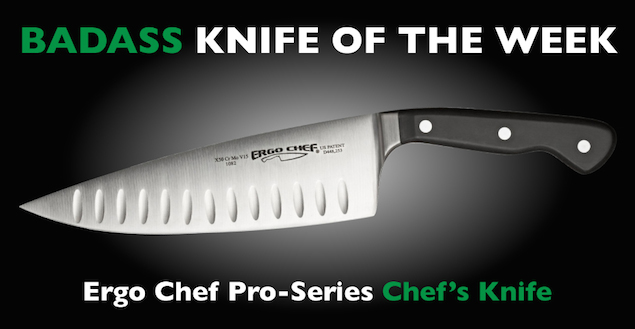 Look at the knives you use most often. Perhaps your pocket knife logs the most minutes with your fixed blade coming in second. But, you might not be considering one of the most used tools in the house: the chef's knife.
This week's Badass Knife of the Week takes the unsung knife of the house and gives it its proper due. The Chef's Knife from Ergo Chef is an 8-inch masterpiece that makes slicing and dicing effortless.
The Chef's Knife 8″ Pro-Series is designed with maximum ease-of-use and comfort in mind. Made with a precision-sharp 18 degree edge, its comfortable ergonomic molded handle allows for unparalleled fine-point work for an 8-inch knife.
Its blade is hollow ground to reduce the tendency of food to stick to a blade surface while cutting. This knife also has a full tang, meaning increased strength and balance for cutting large fruit, vegetables, and cuts of meat.
Made from precision forged German stainless steel, the chef's knife features a seamless molded handle made from aircraft-grade aluminum rivets.
Feel free to take it with a grain of salt, but this is celebrity chef Guy Fieri's knife of choice. You can see him using the knife on his hit show "Guy's Big Bite." That's just a feather in the cap of this knife.
Knives in food preparation typically take a backseat to pocket knives and fixed blades, but with the Chef's Knife from Ergo Chef, you'll never forget you own this knife.
Find out more about this Badass Knife of the Week by visiting the Chef's Knife from Ergo Chef product page.
Never lose your edge.
---