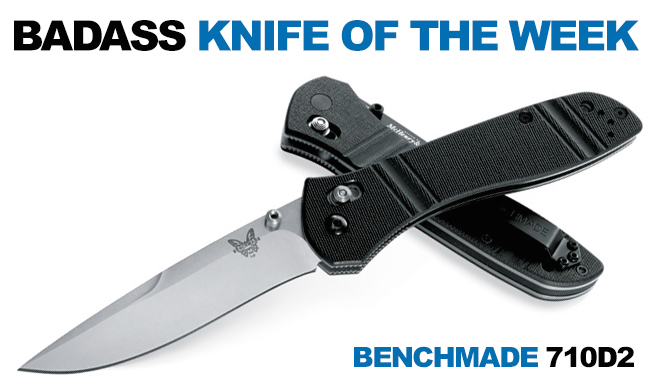 When you're talking about most iconic knives from Benchmade, our latest Badass Knife of the Week will always be in the conservation. In fact, some people say this knife is as close to perfection as you can get.
Not only is the Benchmade 710 the first Benchmade to feature the highly regarded AXIS locking mechanism but it's also one of the best all-around folders on the market.
It all starts with the 3.9-inch blade. The modified clip-point blade is extremely versatile, and the dual thumb studs make for quick and easy ambidextrous opening.
The 710D2 iteration of the folder, which was designed by Bill McHenry and Jason Williams, features high-quality D2 steel. Known for its outstanding wear resistance, D2 steel is touted for its ability to tackle the toughest tasks around.
Farther down the knife is the simple yet effective handle. Machined G10 scales allow for a secure and comfortable grip in a variety of conditions. A black reversible tip-up pocket clip makes traveling with the knife effortless.
Now we get to the most formidable aspect of the knife: the AXIS lock. Considered by some to be the strongest lock ever made, the AXIS is tested to withstand the most rigorous conditions without failing. It can even support a negative load of more than 200 lbs without showing any signs of weakness.
With an overall length of 8.8 inches, this is a knife to behold from top to bottom. We can go on forever about the Benchmade 710, but we'll let the knife speak for itself.
For more information on this Badass Knife of the Week, check out the product page for the Benchmade 710D2. You can also get the Benchmade 710SBKD2 with a BK 1 coated blade and ComboEdge.