While recapping the activity at the Blade Show in June, I mentioned coming across the knife designs of Mr. Suchat Jangtanong. I've begun to take more interest in these knives as I've learned additional details about them and the team that produces them.
Mr. Jangtanong is a third-generation knife maker living in the Uthai Thani province of Thailand, which is located in the central part of the nation approximately 200 kilometers from Bangkok.
He is part of a five-person knife making team called Thita (meaning strong and stable), which consists of a former tattoo artist turned scrimshaw designer, a monk, his sister and two others.  Thita is also the name of one of the members who does the anodizing and manages operations.
All of the knives are made from Damascus steel and the handle materials are presentation grade. Additionally, many contain a unique assisted opening mechanism created by Suchat.  There are also a number of meticulously-carved scrimshaws.
The knives are exclusively sold by Keith Newman and many of them can be found on Arizona Custom Knives in addition to Keith's new website Mr.Damascus Knives, which features about a dozen of Thita's models at the moment and will be adding more soon.
Keith recently sent me over a few pictures of some of team Thita's new designs.  Check them out and let us know what you think.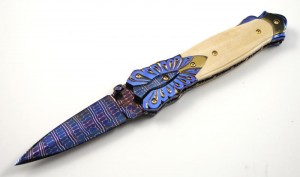 ---