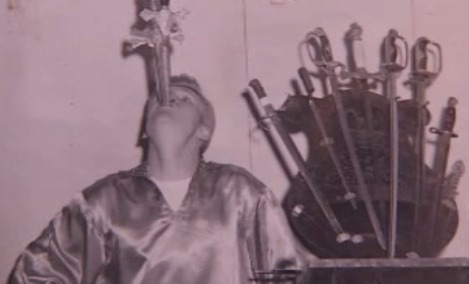 When most people envision their golden years, Caribbean cruises, leisurely walks on the beach and golf come to mind. Not so for 76-year-old James "Lucky" Ball, a  former insurance salesman, who spends his spare time swallowing swords.
Ball,  who lives in Oakley,  Kansas, has been a prolific sword swallower for 64 years and still perfects the craft in his basement.
Ball  learned how to swallow swords from his parents, both of whom were entertainers in the circus.
 "I asked my mother when are you going to teach me to swallow swords?  And she said right now,'" he said.
Ball's father  was also a talented sword swallower, who was featured in Robert Ripley's Believe it or Not.
Ball  no longer works for  the carnival and said that his only performances now are in front of small groups of people.  However, that doesn't mean he's lost his sword swallowing ambition: the 76-year-old hopes to make it into the Guinness Book of World Records for being the oldest sword swallower .
"Ok folks, at 76-years-old I can still do the act out of 7 billion people in the entire world. I am the only one who has been doing this for 64 years and I thank you very much,"  he said.