Every week, Samantha James reviews a different Knife Depot product. Check out her past product highlights here.
What's in your pocket?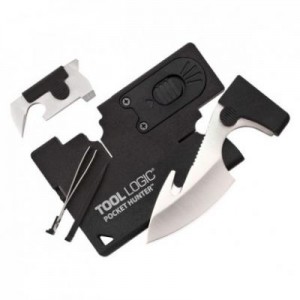 Do you carry a stainless steel gut hook blade? How about an LED flashlight? What about a combination can/bottle opener? Do you have a tweezer and toothpick? Do you sport a ruler with centimeters and inches?
If you tried to carry all of these things in the front pocket of your pants, you'd likely (a) slice your hands to pieces and (b) walk very clumsily.
Of course, there is another option.
Scope out the Tool Logic Pocket Hunter Card, a sweet new gadget blade that packs all of the above tools in one multi-faceted package.
This credit-card-size all-in-one is about as versatile and rugged as an all-purpose knife tool can be. It features a wide 2-inch fold-out stainless blade that's sharp enough to skin animals and has a gut hook on the back.
In addition to its myriad accessories, the hunter card weighs in at a svelte 1.3 ounces, with a length and width of 3.375″ and 2.125″ respectively.  It's made of ABS plastic and comes with a satin finish.
A number of similar pocket hunter cards have been developed recently, but in my opinion the Tool Logic Pocket Hunter Card may be the best of the bunch.  And, at 36 bucks, it's a steal.
If you're looking to pick up an all-in-one outdoor tool, snag one today.