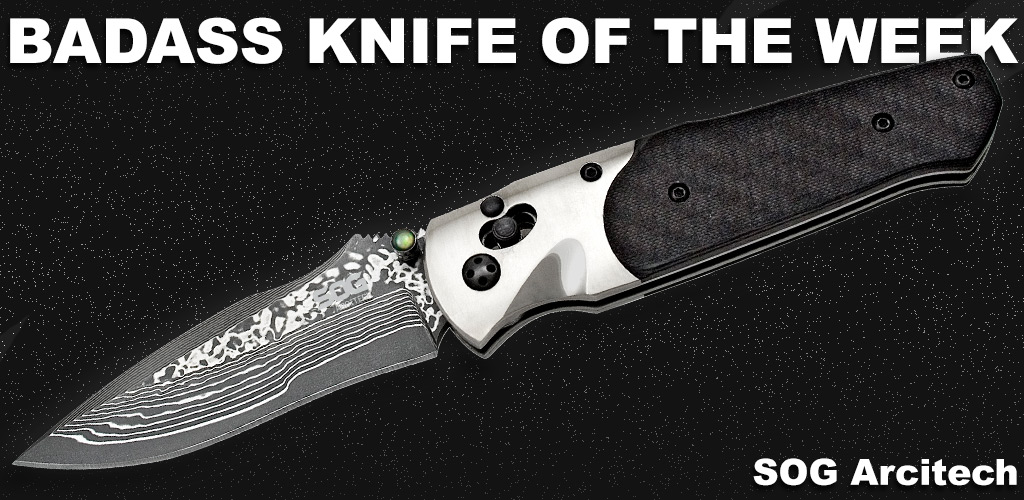 Somewhere at the intersection of inimitable craftsmanship and premium collectibility lies the SOG Arcitech.
Although SOG is best known for making inexpensive tactical knives that excel at what they do, the company has ventured into the world of high-end collectible knives made with a precision and attention to detail typically reserved only for custom knives.
That's what makes this week's Badass Knife of the Week so special.
The limited production SOG Arcitech, which ushered in the company's Platinum line, is a technical masterpiece with flourishes and premium materials that make this knife a must-have for any collector.
The 3.5-inch blade is made of handsome Japanese Damascus, which uses a core of VG-10 and 15 layers of Nickel and stainless steel on either side. After the steel has been forged and folded repeatedly, the blade is acid etched to bring out the pattern that's unique on every knife.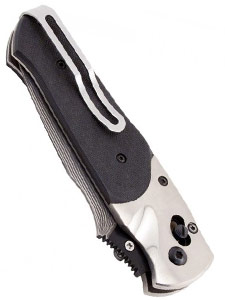 The blade is further accented by an Abalone jeweled thumb stud used to engage the knife.
Named after SOG's tough Arc-Lock mechanism, the knife boasts the most advanced technologies. The Arc-Lock is tested at more than 1,000 lbs of force, keeps the blade securely engaged through rigorous use, and opens and closes easily with one hand.
The titanium bolster that houses the Arc-Lock is complemented by the carbon fiber handles, which provide an understated look and comfortable feel in the hand. As a bonus, the low-carry pocket clip on the knife doubles as a money clip.
If you're not fond of the Damascus blade and carbon fiber handle, the Arcitech also comes in a classic mirror-polished blade and jigged bone handle.
For more information on this Badass Knife of the Week, check out the product page for the SOG Arcitech.
---