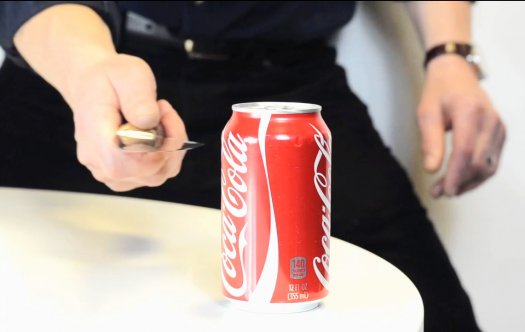 Chef knives have to be extremely functional knives because of all the work they have to do.
One moment the knife might be used to chop meat. In another instance, it might be used to dice a tomato. Then, it might be used to cut a row of water bottles in half after sawing into a metal bolt.
Well, maybe chefs won't be using their knives to do the final task, but simply knowing it can be done is good enough. Master bladesmith Bob Kramer recently demonstrated the sharpness of his knife by slicing into unopened Coke cans for Popular Science (you can also watch the amazing video at the link).
Kramer's knives, which usually go for about $10,000, are highly coveted among chefs. There's actually a year-long waiting list that you have to get on through a lottery system just to get one of his custom-made knives.
Fortunately, for those of us who can't afford to blow $10,000 on one knife or would rather buy 155 KA-BAR survival knives, Kramer is releasing an affordable (or at least relatively affordable) line of knives for $300.
You're probably wondering what makes this guy's knives so special. One of the big differences is the type of material the blade is made out of. Whereas most modern chef knives are made from stainless steel, Kramer's knives are from a non-stainless high-carbon steel.
As I wrote about a while ago, there are pros and cons of using carbon steel over stainless steel. Stainless steel contains a high volume of chromium and is much more durable and resistant to corrosion. Unfortunately, stainless steel doesn't sharpen that well. Enter the carbon steel blade. Despite requiring more time to maintain, the keenness of carbon steel knives are unbelievable.
Even if you're not interested in purchasing a chef's knife, Bob Kramer's knives are truly marvelous and well-made. In the PopSci article, he said he plans on focusing most of his attention on making Damascus steel knives, which use a variety of different layered steels to make intricate designs.
Check out the video below to learn more about the man and be sure to watch at 2:27 to see his knife in action.