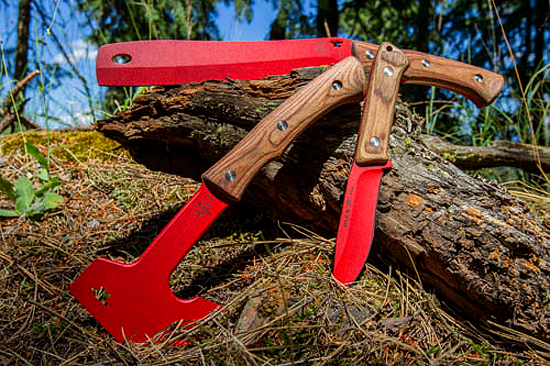 Buck Knives is set to debut a new series of knives called the Compadre Series.
The Compadre Series, which goes on sale in 2015, will consist of a camp knife, hatchet, and chopping froe. Designed with the outdoor enthusiast in mind, the products in the series have an instantly noticeable red powder-coated blade made of 5160 steel. The more underrated aspect of the line is the Heritage Walnut Dymondwood handles.
Here's a little more info about the products in the series, which will make its official debut at the OR Show.
104 Camp Knife

The Compadre Camp Knife features a full-tang construction and an overall length of 9.5 inches. MSRP $80
106 Compadre Hatchet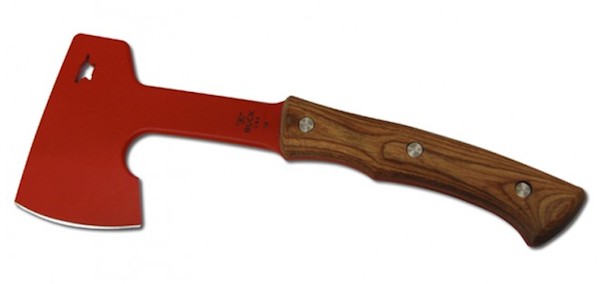 The hatchet comes with an ergonomic handle and is forward weighted to let gravity do some of the work for you. It comes with a leather sheath. MSRP $120
108 Compadre Chopping Froe

A chopping froe is typically designed to be used in conjunction with a mallet to split wood, but this model is billed as a multipurpose wood-working tool that's perfect for clearing brush, heavy chopping, splitting, and batoning. It has an overall length of 16.75 inches and a 9.5-inch blade. MSRP $160
So what's with the red coating you might wonder? The red coating makes it visible when used outside because it won't blend into the environment. It has an added bonus of adding corrosion resistance to the 5160 steel. Since that type of steel is not known for its corrosion resistance, you'll want to take care of the blades after every use.
The current prices are a bit high, but the street prices will likely be a lot lower.