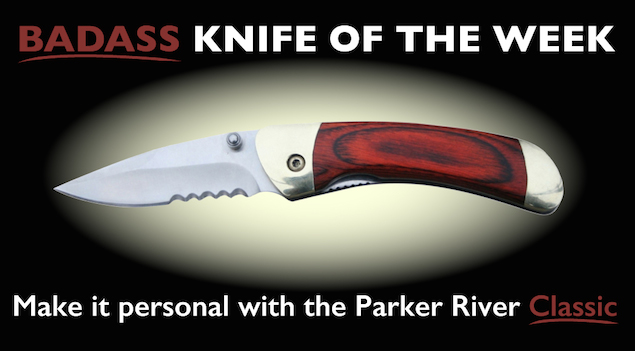 It's apt that Father's Day is around the corner because the the pocket knife featured above is the big daddy of Parker River Knife Company.
This week's badass knife, which is simply called the Classic, is everything you want in an everyday carry. It has the looks, functionality, and reliability some people never experience their whole lives.
With a reasonable blade length of 2.75 inches, the knife is easy to carry with you wherever you go and won't cause a fuss when you pull it out of your pocket. The 440C stainless steel blade features a partially serrated edge that excels at most tasks you'll encounter daily.
The real awesomeness of the Classic is its handsome red grain wood handle. You also have the nice brass bolsters that reinforce the handle and really bring out the color in the wood.
It doesn't end there though. What really sets this knife apart from the countless other classic-looking folders is the ability to personalize the knife. You can easily add an inscription to the wood handle with an order, making it great for gifts.
Designed to last a lifetime, the Classic from Parker River Knife Company is the perfect example of blending modern with traditional.
On the one hand, you have a look that mimics something your grandfathers would have carried and on the other, you have a knife that embraces more modern technology like liner locks and corrosion resistance.
Simply put, you can't go wrong with the Classic.
Find out more about this week's Badass Knife of the Week at the Parker River Classic Folding Knife product page.
---