Just as we were mourning the discontinuation of knives from a number of brands, Spyderco released its 2017 catalog, revealing a wide array of new models, notable upgades, and sprint runs.
Spyderco has undergone a few pretty cool changes for 2017. One of the changes I'm most happy about is an updated website, which was long overdue. And the new knives, of course.
There's a lot to digest, so for now I'll just highlight some of the most notable knives for 2017. At the end of the post, you can find all the new knives for 2017 (which includes some that were previously announced earlier this year). You can also check out Spyderco's 2017 catalog yourself.
Spyderco Para 3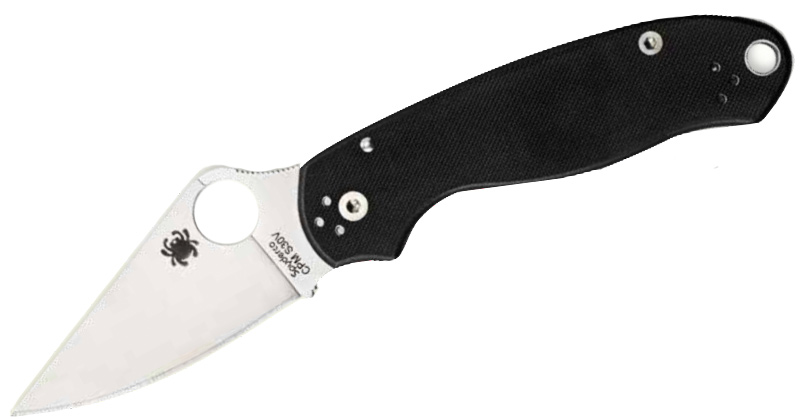 It's here… it's finally here. People have been climbing up the walls in anticipation of the Paramilitary 3 (simply called the Para 3) for a while. The Paramilitary 2 is widely considered one of most popular and best folding knives of all time (and was a recent Badass Knife of the Week). Many were hoping for a smaller version—whether because of legal restrictions or preference.
Spyderco has answered your prayers. The Para 3 is a scaled down version of the hugely successful PM2. It retains the same CPM S30V steel, Compression Lock, G-10 scales, stainless steel liners, and opened back construction. The only difference is the 3-inch blade and overall length of 7.27 inches.
It'll be your new favorite knife.
Spyderco Police 4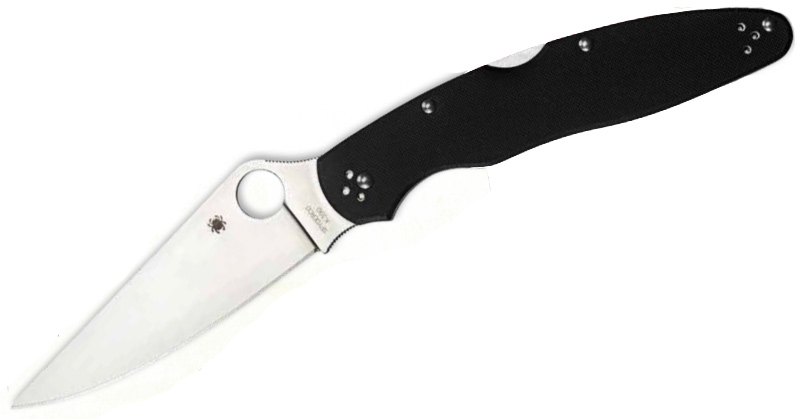 We mourned the loss of the Police 3 in our obituaries for Spyderco's discontinued knives, but the sadness was short-lived. Introducing the Police 4.
The new Police 4 comes with a full flat ground blade made from Bohler K390 (versus the VG-10 steel of the 3). This updated iteration also has a slightly longer blade, skeletonized full steel liners, and a lighter weight.
It's hard not to get excited to try it out.
Spyderco Efficient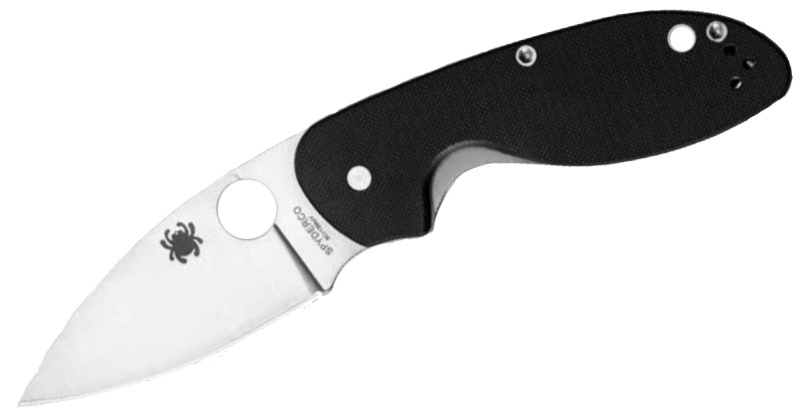 Most knife nerds won't be too excited for the Efficient, but value folders are quite popular around these parts. This is a design collaboration with Eric and Ed Schempp (according to Sal Glesser) and is meant to be affordable.
The ergonomic design looks comfortable and compact. Its 3-inch blade is made from 8Cr13MoV stainless steel, and the handle features G-10 scales. This'll likely make an excellent EDC beater knife, similiar to the Tenacious.
Spyderco Q Ball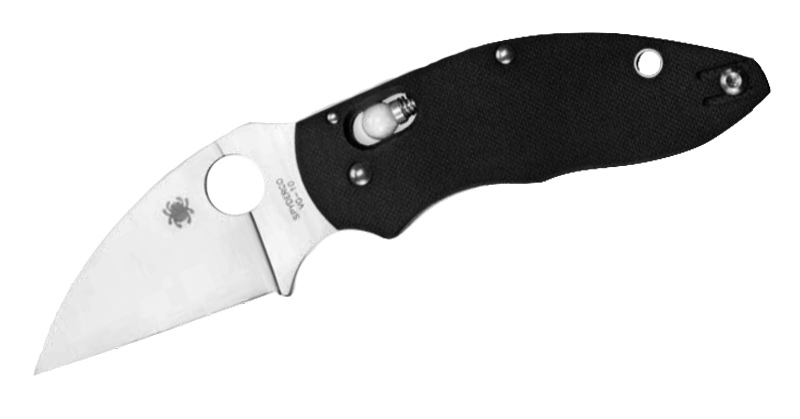 The Q Ball doesn't look like your classic knife, but it's been getting a lot of people excited. Named after the ceramic ball bearing of its lock mechanism, the Q Ball features a wharncliffe-style blade made from VG-10 steel. The textured G-10 handle scales are reminiscent of the Dodo. The finger choil encourages a forward grip with more control.
The Japan-made knife has an overall length of 6.58 inches, a 2.72-inch blade, and a weight of 3.5 ounces.
Spyderco Opus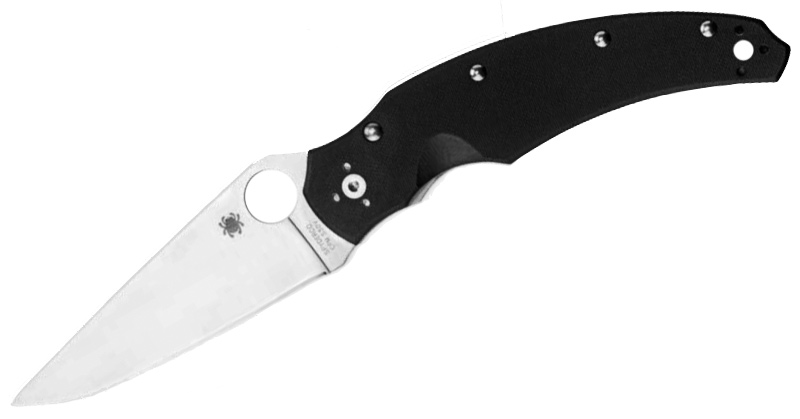 The Opus is another one of the new specialty knives catching some eyes. It has a decidedly Spyderco look but with some touches that may make you look twice. Designed by German knifemaker Ulrich Hennicke (maker of the Ulize), the Opus has a long and slender 3.75-inch blade made from CPM S30V stainless steel.
Its handle is ergonomically designed to feel comfortable in a variety of grips. The handle itself features G-10 scales, an open-backed design, and a classic liner lock.
New Spyderco Knives in 2017 Catalog
Signature Knives
C07GP4 Police 4
C10ZFPGR Endura 4 Lightweight Zome Green
C11ZFPGR Delica 4 Lightweight Zome Green
C11FPWCBK Delica 4 Lightweight Warncliffe
C41PGY5 Native 5 Micro-Melt Maxamet
C36GPLE Military Model G-10 Left Handed
C223GP Para 3
C81GPLE Para Military 2 G-10 Left Handed
C101PGY2 Manix 2 Micro-Melt Maxamet
C90PGRE2 Stretch 2 ZDP-189
C90PBK2 Stretch 2
Salt Series
C211TIP SpydieChef (2016 Mid-Year Release)
MYLS Manbug Salt Lightweight
FB35SBK ARK
FB40SYL Fish Hunter
FB24SBK2 Jumpmaster 2 (2016 Mid-Year Release)
Value Folders
C216GP Efficient
C220GPGY Polestar
Flippers
C214TIP Advocate (2016 Mid-Year Release)
C212CFP Magnitude (2016 Mid-Year Release)
C187CFP2 Rubicon 2 (2016 Mid-Year Release)
Specialty Knives
C70GP2 A.T.R. 2
C63GP4 Chinook 4
C69GP3 Lil' Temperance 3
C82GP3 D'Allara 3
C218GP Opus
C207GP Ouroboros (2016 Mid-Year Release)
C219GP Q Ball
C210GP Reinhold Rhino (2016 Mid-Year Release)
C170GBBKP Karahawk Black Blade
Ethnic Knives
C215GP EuroEdge (2016 Mid-Year Release)
C123CFPCL Sage 5 (2016 Mid-Year Release)
C152RNP Chaparral Raffir Noble
Sprint Runs
C205GFBLP Lil' Lum Chinese Folder Blue Nishijin
CX08GGYP Baby Jess Horn
C64JPBORE Meerkat HAP40/SUS410
C113GPGR Caly 3 HAP40
Flash Batch
C221GPWH Lil' Nilakka
Nonlocking Folders
C94PDBL UK Penknife CPM S110V
Fixed Blades
FB38GP Junction (2016 Mid-Year Release)
FB39GP Sustain (2016 Mid-Year Release)
TK01SM Small SpyderThrowers
TK01MD Medium SpyderThrowers
TK01LG Large SpyderThrowers
Kitchen Knives
K12P Chef's Knife
K11S Cook's Knife
K01SBK Bread Knife
Byrd Knives
BY12GP2 Starling 2 (2016 Mid-Year Release)